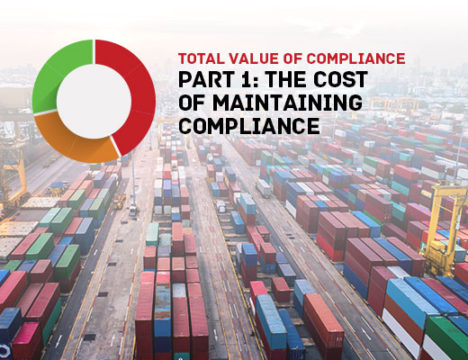 Trick question: Do you spend too much on Dangerous Goods compliance?
Most hazmat professionals would probably answer "yes." Whenever we have to spend money on something that doesn't show an immediate benefit, it always feels like we're spending too much. And there's no getting around it—Dangerous Goods compliance requires a financial outlay.
But the real question isn't whether you're spending too much (or too little) to keep your shipments compliant. The real question is whether you're getting the most value out of every compliance dollar you spend.
How do you answer that question?
Take the new Total Value of Compliance Assessment
Our free Total Value of Compliance Assessment has three parts, and part 1 is all about maximizing the value of your compliance spending.
In case you're just joining us, the total value of compliance concept is a new way of thinking about supply chain operations. It helps you view hazmat compliance as not just a cost of doing business, but as a value-added component that contributes to profitability.
Total value of compliance—or TVC—builds on three factors relevant to any business engaged in hazmat transport:
The costs of compliance. The actual cost of maintaining compliance throughout your supply chain.
The costs of non-compliance. The cost of errors or lapses in compliance.
The revenue opportunities of higher-level compliance. Opportunities for market leaders to differentiate, increase revenue and speed cash flows.
The Total Value of Compliance Assessment helps you and your Labelmaster account executive evaluate and improve your organization's TVC. And the higher your TVC, the more profitable your operation can be.
A clearer lens on your optimal investment level
So, how do you know if you're getting the most value out of every dollar you spend on hazmat compliance?

Part 1 of the Total Value of Compliance Assessment looks at that question seven ways from Sunday. In fact, this part of the assessment consists of seven questions that cover every aspect of compliance spending—not just labels, placards and packaging, but also …
People
Hazmat-specific processes
Supportive software and other technology
Reporting and oversight
Training
Management
These aren't yes-or-no questions—they're open-ended conversation starters that can reveal weaknesses you didn't know you had and opportunities you may never have considered. The conversation will probably take about 30 minutes.
According to Labelmaster Account Manager Tom Garrett, "This is where you'll find gaps on training and records, which are the first things DOT or FAA asks to see. And, from a cost-benefit analysis view, are you doing it all the best way?"
Hidden costs and productivity trade-offs
Assessing your compliance spend isn't really about what you spend—it's more about how your spending decisions are made. Are your costs hidden in fractured views across multiple sites, verticals, channels and reports? If so, your procurement leaders may not be able to avoid hidden costs.
By the same token, if buying decisions are being made solely on a short-term cost basis, you might be sacrificing long-term productivity.
When you and your Labelmaster account executive have finished the assessment, you'll receive a complete, free report assessing multiple facets of your operation as red, orange or green:
Red: Your operation has significant gaps
Orange: Your operation is doing well but can improve
Green: Your operation demonstrates high-level TVC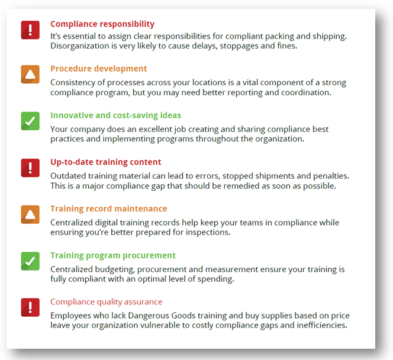 These results are more than simply information you can use to improve your TVC. They're also ammunition you can use to persuade your management that improved compliance is worth pursuing.
Garrett says, "It could confirm what you already know, or it could open up a whole new conversation."
For more detail about TVC and how you can apply it, download the Total Value of Compliance Technical Brief today.
If you'd like to take a free TVC Assessment, call your account manager or contact Labelmaster Marketing Manager TJ Harvey.
Next: Assessing your costs of non-compliance
Labelmaster is a full-service provider of goods and services for hazardous materials and Dangerous Goods professionals, shippers, transport operators and EH&S providers. See our full line of solutions at labelmaster.com.