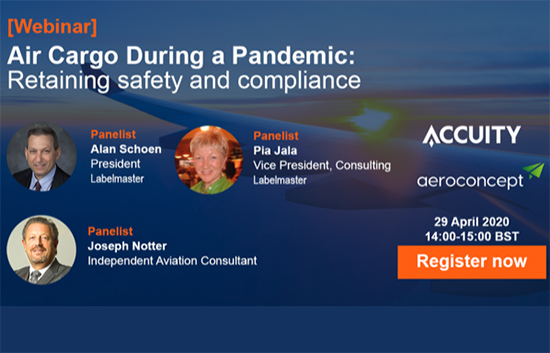 In urgent times like these, air cargo is more essential than ever to the global supply chain. When medical supplies, test samples, supermarket supplies and e-commerce goods have to get there ASAP, they're most likely to get there via air.
Yet urgency can't be allowed to compromise safety. Adapting to today's unprecedented demands can create increased risk. How can air transport companies maintain the highest standards of safety and compliance as they fulfill their crucial role?
That's the topic of next week's essential webinar from Accuity and aeroconcept—Air Cargo During a Pandemic: Retaining Safety and Compliance. Register here!
Expert speakers from across the aviation industry
This webinar will feature expert speakers from across the industry—passenger and cargo airlines, industry associations and Dangerous Goods specialists.
The moderators are:
Aneta Klosek, Director, Strategic Components of Growth, Accuity. Aneta is a senior professional in the field of financial crime prevention and international anti-money laundering regulations. In her current role, Aneta is an integral part of compliance projects for leading global air cargo companies such as Emirates and Lufthansa.
James Wyatt, General Manager, aeroconcept. James has worked for some of the world's largest airlines, including Lufthansa Cargo, AeroLogic and Qatar Airways, as well as DHL Express and IATA. His global expertise extends to cargo handling, aircraft handling, flight operations, Dangerous Goods, quality and safety, auditing and training. (He's also delivered great sessions at our Dangerous Goods Symposium.)
Two Labelmaster experts will also share their insights into how Dangerous Goods supply chain companies can remain compliant during a pandemic:
Alan Schoen, President. Alan will stress the importance of over-communicating across your supply chain. As social distancing requirements highlight large gaps in data integration across the supply chain, handling hazmat may cause even more angst than usual.
Pia Jala, Vice President Consulting. Pia will emphasize the importance of teaching and training—onboarding new hazmat employees quickly and assisting the current Dangerous Goods community with a virtual training curriculum.
Other speakers include:
If your organization is involved in any capacity with the airborne Dangerous Goods supply chain during this crisis, you should not miss this webinar. Reserve your spot now!
Make sure your shipments are safe and in complete compliance with a full line of solutions from Labelmaster—a full-service provider of goods and services for hazardous materials and Dangerous Goods professionals, shippers, transport operators and EH&S providers.