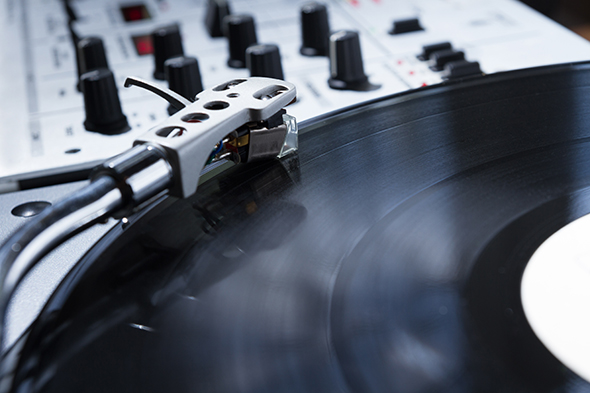 Ask any music fan—vinyl is in a full-fledged comeback. Old records are emerging from basements and grandparents' houses everywhere, and the pressed black polyvinyl chloride (PVC) disc is once again the hip way to buy new music.
PVC was once the hip material for hazmat labels, too. But environmental and health concerns about PVC have led Labelmaster's move toward labels made from PVC-free film.
Here's a brief history of the rise and fall of PVC labels in the Dangerous Goods industry.
PVC is everywhere
After polyethylene and polypropylene, PVC is the third most widely produced synthetic plastic polymer. PVC, in one form or another, is all around us—from water pipes to window casements, home siding, flooring, medical devices, toys, truck toppers, footwear and yes, vinyl albums.
Adding plasticizers (called phthalates – "thal-ates") and other additives to PVC transforms it into the velvety soft, supple and easily conformable thin gauge film we have come to know in the Dangerous Goods industry as flexible white vinyl. For many years, this material, coated with a permanent adhesive, was the "go-to" workhorse substrate for Labelmaster's hazard class labels.
For long term outdoor durability, chemical/abrasion resistance, and UV fade/chip/peel resistance, it was hard to beat PVC.
Unfortunately, phthalates and some of the other chemical additives rendered PVC environmentally unfriendly. It's non-recyclable, and potentially carcinogenic under certain circumstances. (In fact, vinyl chloride is actually a Class 2 hazard.) These concerns have prompted movements in Canada, the European Union and the United States to replace certain phthalates in PVC with safer alternatives.
Let's talk about polypropylene
Our hazard class labels used to be available in paper or vinyl, but about five years ago we converted most of our vinyl hazard class labels to a new non PVC-based substrate named … wait for it … PVC-Free film.
Our customers barely noticed the difference. While it's not quite as soft and pliable as PVC, our PVC-Free labels exhibit all the functional performance characteristics and printability of PVC vinyl.
PVC-Free film is a biaxially-oriented polypropylene polymer which, in lay terms, means that it is "stretched" in both directions when extruded, resulting in a film of superior strength and clarity. It meets the same compliance standards as vinyl (including the IMO 90-day seawater immersion test), and is equally suitable for outdoor applications in extreme weather conditions.
PVC-Free film adheres well to a variety of surfaces, including painted metal, corrugated, fiber drums and barrels. It also exhibits the smooth, ink-receptive surface many of our customers require to imprint variable data—which is why we've converted so many other labels to PVC-Free film, including:
Beyond the world of Dangerous Goods, polypropylene is used to manufacture bags, bottles, plastic pails, car batteries, waste baskets, prescription bottles, dishes, pitchers, ropes, cables, roofing membranes, plastic moldings, light shades, food containers, chairs, and … well, you get the idea!
Oh, and one last thing … PVC-Free polypropylene is recyclable, too!
---
Make sure your shipments are safe and in full compliance with a full line of solutions from Labelmaster—a full-service provider of goods and services for hazardous materials and Dangerous Goods professionals, shippers, transport operators and EH&S providers.