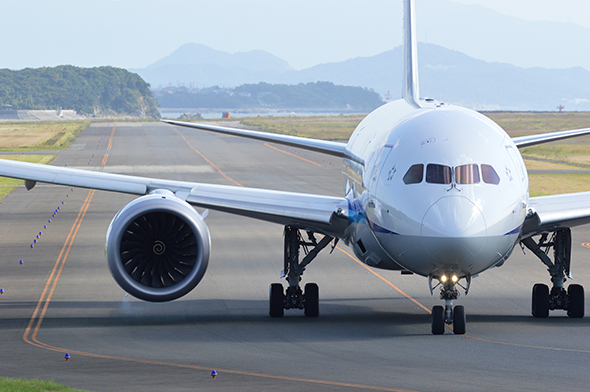 Seldom does a guidance document from a private business causes much stir in the aviation transport community when it comes to Dangerous Goods; however, that is not the case after the Boeing Company released new guidance on July 17th regarding the bulk carriage of Lithium Ion Batteries (UN3480) on its passenger aircraft.  Along with European maker Airbus, Boeing is the major producer of large commercial jet aircraft for the civilian aviation industry.
The new guidance document references the fact that Lithium Metal Batteries are banned as cargo on passenger aircraft under the auspices of the International Civil Aviation Organization Technical Instructions for the Safe Transport of Dangerous Goods by Air (ICAO/TI).  It then goes on to state that:
"…recently concluded testing by the International Coordinating Council of Aerospace Industries Association (ICCAIA), with Boeing's participation, has determined that a fire involving one or more packages of lithium ion batteries packed and transported in accordance with the Dangerous Goods Technical Instructions could create hazards that the aircraft fire protection features are not able to adequately protect against." (1)
The guidance then goes on to list several palliative measures developed by the ICCAIA including:
"1) Appropriate packaging and shipping requirements be established to safely ship lithium ion batteries as cargo on aircraft. 

2) High density packages of lithium ion batteries and cells (such as defined by UN3480) not be transported as cargo on passenger aircraft until such time where safer methods of transport are established.

3) Appropriate packaging and shipping requirements be established to more safely ship lithium metal and lithium ion batteries as cargo on freighter aircraft." (1)
The document concludes:
"Actions to be taken in support of the ICCAIA recommendation: Boeing recommends operators not carry lithium ion batteries as cargo on passenger aircraft until safer methods of packaging and transport are established and implemented." (1)
Why is this important?
As noted, Boeing manufactures many of these aircraft.  While Boeing's guidance is not enforceable in nature; however, as a large manufacturer they wield enormous influence. Airbus has not made a comment at the time of this posting; however, their aircraft operate with broadly similar systems and in very similar circumstances, so it seems likely enough that a carrier might choose to extend any prohibition against carriage to those aircraft as well as their Boeing fleets.
The guidance goes on to specify a number of other measures that operators might take in reference to shipping such products on cargo aircraft as well, namely a "safety assessment" that considers the following information:
"The types and quantities of lithium batteries carried.
The fire protection features of each model aircraft in their fleet
The expected flight profile (flight duration, ETOPS, etc.)
History of battery shippers compliance to dangerous goods transport regulations
Quantity of batteries per flight
Location of batteries within the cargo compartment
Proximity to other dangerous goods
Potential ignition sources in compartment
Other relevant aspects of the operator's cargo carriage experience" (1)
One has to wonder where in the process the carriers simply decide that between the potential actual and perceived risk, increased liability in the face of manufacturer's warnings, additional administrative hassles, and tracking and record-keeping functions, it will be easier and safer to simply dispense completely with carriage.  Given the high volume of battery shipments, especially from Asia to the rest of the world, and the lucrative fees available to carriers of the goods, that day may still be distant, but it is hardly unthinkable.  A number of carriers, mainly in Asia but including large Western companies like Delta, British Airways, and Air France, have already imposed such restrictions. Boeing's guidance may prompt others to follow suit.
A major battery industry trade group, the PRBA or Rechargeable Battery Association, released a responsive document noting the high safety record of fully compliant battery shipments—a correct differentiation between batteries shipped fully in accordance with the existing regulations and those shipped in a more ad hoc fashion.  Such shipments appear to have been the source of much of the trouble that has occurred thus far.  Nevertheless, PRBA appears resigned to accept the inevitable, promising to work with all parties concerned to produce the bests possible packaging and shipping solutions available.  The group will conduct a working meeting in the next few days to help formulate a plan of action.  The next meeting of the ICAO committee concerned with Lithium Battery regulatory activity is to meet in Montreal at the end of July; clearly PRBA and other such groups will want to put their best foot forward as the process moves forward.
Time will tell; however, it may be that a future where Lithium Batteries of any type either move aboard aircraft contained in only extremely rugged and resilient packaging, or else are transported by ground based methods.
Here is a link to the Boeing Guidance on Lithium Batteries on passenger aircraft
Here is a link to the PRBA press release; visitors can also access Boeing's guidance via the PRBA website: http://www.prba.org/news/
Labelmaster is a full service provider of goods and services for the Hazardous Materials and Dangerous Goods professional, shippers, transport operators, and EH&S providers. See our full line of solutions at www.labelmaster.com.
References: (1) Boeing Unofficial Version, Lithium Battery Guidance Document, July 17th, 2015