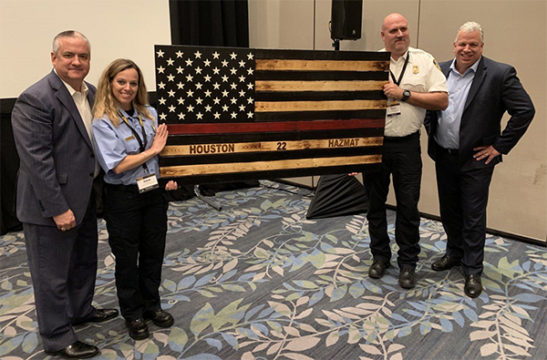 Last week, three Labelmaster team members attended the first-ever CHEMTREC® International Hazmat Summit in Houston—a "one-of-a-kind forum for all interested parties involved in the safe transportation, handling, and use of hazardous materials, including shippers, carriers, and emergency and spill clean-up responders."
We partner with CHEMTREC as their exclusive supplier for hazmat shipping labels, markings and decals because we support their mission: giving responders complete, fully up-to-date information in the event of a Dangerous Goods incident.
The way we see it, our goal is to help hazmat pros make the beginning of the Dangerous Goods supply chain as safe as possible. CHEMTREC helps extend that safety all the way to the end of the supply chain.
That's why we were so pleased to not just attend but to help sponsor this biennial, three-day event. Here's a summary of the takeaways from Labelmaster President Alan J. Schoen, VP of Marketing & Product Management Robert Finn and Director, Global Learning Rhonda Jessop.
We can't afford to normalize deviance
The opening remarks from retired U.S. astronaut Mike Mullane contained a message everyone throughout the supply chain should hear: We can't afford to "normalize deviance" by repeatedly accepting small errors and mistakes. Even if these deviations don't immediately threaten safety, someday they likely will.
Mullane recalled the 1986 Challenger disaster, caused by the failure of O-rings that were known to have failed beforehand. Normalizing those failures led to a nightmarish worst-case scenario.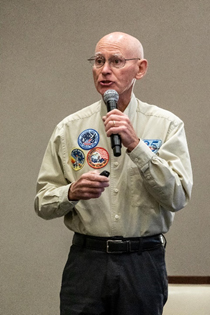 "Risk has no memory," Mullane said. "Risk is not diminished as a function of your success in taking the risk, and a single best practice deviance can light a fuse to a distant team failure."
In the Dangerous Goods world, we haven't had a major hazmat incident in years, but we can't relax our vigilance. We can't afford to ever accept anything that's incorrect, because eventually the odds will catch up with us—and people's safety will be in danger.
"A world-class performance legacy will not protect you," Mullane warned. "Past success will not guarantee future success. Best practice compliance should be a religion."
Training must adapt to a new generation
Jessop, who oversees Labelmaster's full suite of online hazmat training modules, gave a first-day presentation entitled "E-Learning in the Training Landscape." Her essential point: E-learning is already an integral part of the training landscape and it's likely to get more important.
"The world is moving toward e-learning," she says. "With millennials and Generation Z coming into our workplaces, learning styles have changed and we need to adapt."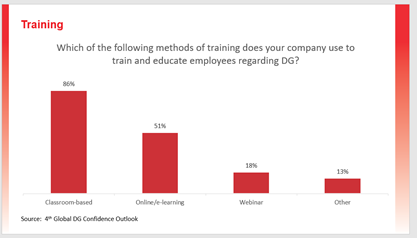 Her presentation points to several reasons online hazmat training is here to stay, including:
Lower cost than classroom training, including less travel to central locations
Higher productivity, with employees spending less time away from the workplace
The convenience of 24/7 internet access
Easier global harmonization of training programs
Flexibility, scalability and customizability
She also shared a Top 10 list of challenges for developing an effective e-learning program. Transforming technical, "dry" material into a meaningful on-line experience isn't easy.
But it's essential, because "training still remains the number one issue for violations. No one is saying we should run away from classroom training, but how do we adapt to the new landscape? Can we use 3D, virtual reality, or augmented reality to enhance the learning experience? The industry is moving toward artificial intelligence—you can design a training course and it will adapt to the user itself.
"The whole point is that we need to look at how we deliver training currently and how we can deliver it to new generations with up-to-date, modern creative techniques."
Gain an edge with CHEMTREC data
CHEMTREC customers know they can count on the company's support if they ever have an incident in hazmat transport, but some are less aware of the breadth of data CHEMTREC compiles on the thousands of incidents reported to them every year.
One session at the Summit promised:
"Gain a better understanding of how CHEMTREC incident report data can be leveraged to better understand incidents. You will learn how this data can be exported and used to improve best practices. You will also hear about best practices in various circumstances when it comes to an effective audit."
Finn said, "In Labelmaster's 4th annual Global Dangerous Goods Confidence Outlook, DG pros worldwide see significant gaps in the completeness, accuracy, and centralization of critical hazmat data across their supply chain. The incident data CHEMTREC offers its customers is impressive. It's data their customers can use to improve processes, reduce risk and make critical business decisions."
He pointed to another session in which CHEMTREC's Kevin Bryan detailed the company's Lithium Battery Test Summary Management System. Test summary requirements coming into force in January 2020 are a major source of anxiety for manufacturers and distributors. This system will help, by leveraging CHEMTREC's expertise data to curate thousands of battery test reports across multiple devices and models.
Finn said, "In our industry, data is an essential compliance tool that can facilitate hazmat compliance as a competitive advantage. We at Labelmaster congratulate CHEMTREC for making this kind of data available, and for the success of their first Summit."
Make sure your shipments are safe and in complete compliance with a full line of solutions from Labelmaster—a full-service provider of goods and services for hazardous materials and Dangerous Goods professionals, shippers, transport operators and EH&S providers.