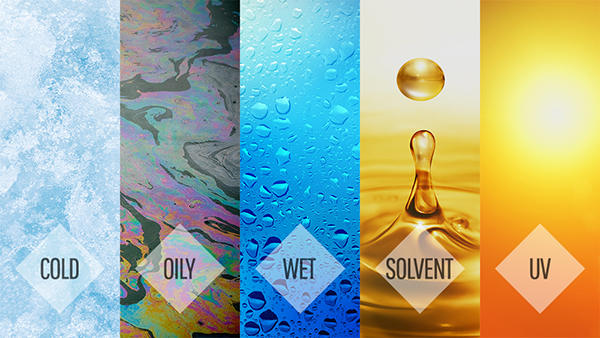 When we introduced hazmat labels, placards and marks for extreme conditions back in 2019, we had no idea that 2020 would introduce a whole new meaning to the words "extreme conditions."
No, our new line of labels, placards and marks was not designed to help Dangerous Goods organizations handle a global pandemic. (The hazmat supply chain nevertheless did pretty well in that regard.) They did, however, impress a growing number of shippers with their ability to hold up under harsh conditions under which other products routinely fail.
Now, we're offering you an opportunity to sample the materials that make these products so exceptional. Just request a sample kit of labeling materials that thrive in:
Cold environments
Oily surfaces
Wet surfaces
Solvent exposure
Ultraviolet exposure
These aren't hazmat labels. They're just for fun—but they'll give you all the proof you need that our extreme conditions labels, placards and marks are made for serious business.
Cold-resistant material for Dangerous Goods (and other) applications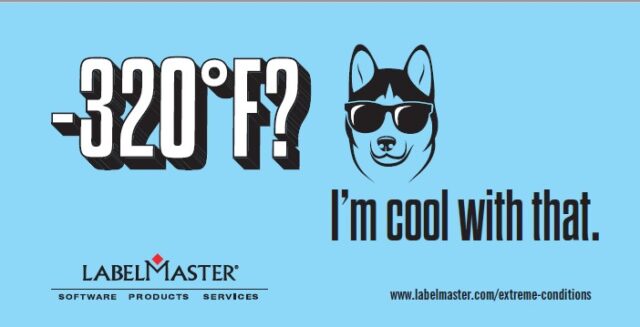 Mother Nature has no respect for your Dangerous Goods compliance record.
This time of year, in the Northern Hemisphere, winter weather can turn some ordinary labels and placards into unreadable mush. Since hazmat inspectors prefer to be able to read labels and placards, unreadable mush can result in unpleasant penalties.
But this cold-resistant material isn't just for Dangerous Goods applications. According to Labelmaster product manager Jill Resendiz, it can be used for "anything that goes in and out of freezers. It can wrap around test tubes—or any object with a small radius—and will adhere all the way down to cryogenic levels."
Strong demand for wet surface labels and placards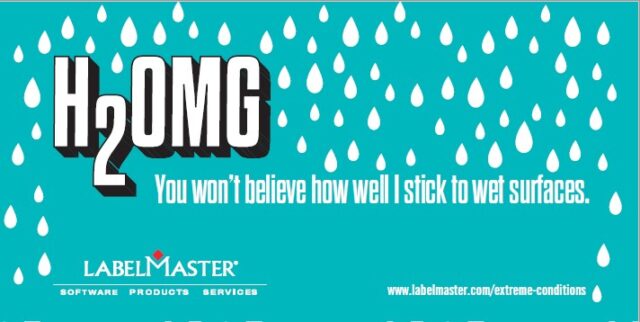 Labels and placards for wet surfaces found an immediate audience with operations in warmer areas. "When it's hot and humid," says Resendiz, "and your warehouse isn't climate controlled, labels will keep falling off."
One company tested hazmat labels for wet surfaces with an order for 50 rolls, and they were so pleased they decided to flip all their labels over to the extreme versions. Resendiz says, "Over a year's time, they've projected how much they can cut their total DOT label purchases by not having to replace all the labels that fall off."
The best-selling wet environment product, however, is the basic "red arrows up" air label, which is useful for an astonishing range of industries. Resendiz says, "We've seen them ordered for office supplies, cosmetics, spices, automotive parts and industrial waste."
Labor-saving oil-tolerant labels and placards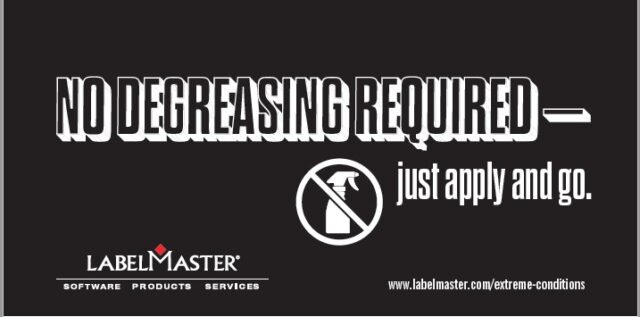 Other customers have discovered the labor-saving advantage of products that adhere to an oily drum's surface without any pre-cleaning. That eliminates an unproductive daily chore.
Resendiz explains, "With most labels, if there's any residue or surface contamination on the drum or container, if you don't really prep the drum surface, the label won't stick. Chances are your drum or container is being reused and is not pristine. You really have to prep the surface and follow the instructions from the label manufacturer."
Customized for several extreme situations

Resendiz notes that many companies have created customized, non-regulated labels with this extreme material for all sorts of internal use situations.
"For instance, our solvent-resistant labels have proven popular with companies that use 'transfer cans' to move chemicals within their operations. These aren't officially regulated, but they do have to be marked with something that identifies their hazards—or even just the name of the chemical.
"And when OSHA comes in, if they can't read the label, you'll get fined," says Resendiz.
The secret to this material's success, which it shares with our extreme UV exposure products, is that the additive is embedded in the material, extending the UV ink's durability.
Try them yourself!
If you'd like to see our how well our extreme conditions labels, placards and marks handle extreme conditions, request a sample kit and try them yourself! For instance,
Grab a soaking wet water bottle out of a cooler and slap one of the wet environment labels directly onto it. It sticks. For real.
Try the same thing with an oily environment label on a greased-up drum. It sticks—no prepping required!
Or stick a cold weather label on your snow shovel the next time you have to dig out your driveway. It will still look good next winter.
If the samples impress you, take a closer look at our full range of labels, placards and marks for extreme conditions. Because if we've learned anything in the last year, today's "extreme" can soon become tomorrow's "normal."
Labelmaster is a full-service provider of goods and services for hazardous materials and Dangerous Goods professionals, shippers, transport operators and EH&S providers. See our full line of solutions at labelmaster.com.