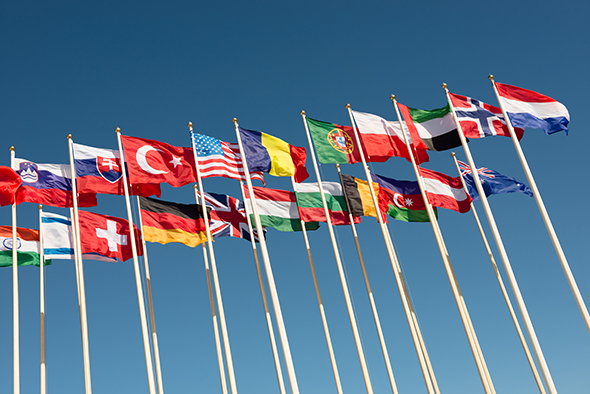 Hazmat consultant Ben Barrett will speak about GHS hazcom standards during the 12th annual Dangerous Goods Symposium, September 6–8, 2017, in Chicago.
The UN Globally Harmonized System for hazard communications—better known as GHS—has been haltingly adopted by U.S. companies since its implementation in 2012. While the final deadline for implementation passed more than a year ago, compliance with these workplace standards remains far lower than 100%.
"GHS is, at this point, neither global nor harmonized," says Ben Barrett, of DG Advisor, LLC. "It's a new world system still in its infancy."
Barrett, however, is optimistic. "International transport regulations are very mature—they've been in development for four decades. It's a slow process, but that's where we're headed. GHS is where hazmat development was in the 1980s."
Pictograms, placards and problems
Barrett has served as an industry liaison to PHMSA, the FAA, the USCG, OSHA, and their United Nations counterparts. His principal client for advocacy is the Sporting Arms and Ammunition Manufacturers' Institute (SAAMI), and he has also worked as a delegate for the Dangerous Goods Advisory Council (DGAC).
Recently, he helped lay the foundation for a joint PHMSA/OSHA memo allowing state agencies to enforce regulations against placard-sized GHS pictograms with no text, which people had been mounting on trailers.
He also helped DGAC resolve a more complex issue in Europe, where a conflict between U.S. and European hazcom regulations was creating headaches for major shippers like Amazon.
He explains, "OSHA makes you label the immediate container with a GHS pictogram, but not the outer shipping box. In Europe, every layer has to have the label replicated."
The problems arose from items that required a GHS label for worker safety, but not a hazmat label for transport.
"GHS people have very little experience with logistics—they're focused on classification. In Europe, the way they enforce GHS would have led to lots of labor when breaking cases and repackaging. An Amazon shipment might have five different things in a box. They were going to make you copy the GHS label in color from the immediate container and stick it on the outside package with tape.
"Major shipping operations can't do that. It's impossible—their systems are designed for thousands of shipments per day."
The solution Barrett helped develop will be coming out in guidance soon.
Trying to make a complex subject simple
"The big challenge with GHS," Barrett says, "is to stop the proliferation of national implementations that are different."
He explains, "GHS has huge variables. It was developed with worldwide participation, so there had to be significant political compromises. In many cases, countries had to be told, 'Keep doing it your way,' or GHS wouldn't have come to fruition."
At September's Dangerous Goods Symposium, Barrett will discuss the continuing confusion about—and non-compliance with—GHS regulations.
"A lot of people simply don't understand the new system. For transport people, it's a thorn in their side when they get questions about GHS. We need to try to make a complex subject simple, and get a global understanding.
"Ultimately, you need to be able to label a product one way and ship it everywhere in the world."
The 12th annual Dangerous Goods Symposium—September 6–8, 2017
Labelmaster will host the 12th annual Dangerous Goods Symposium September 6–8, 2017, at Chicago's historic Drake Hotel.
If you're a Dangerous Goods professional, you attend this event. It's as simple as that. You'll never find more DG knowledge or experience in the same place, anywhere. No other event offers this depth of opinions and insight into the transport of hazardous materials.
---
Labelmaster is a full-service provider of goods and services for hazardous materials and Dangerous Goods professionals, shippers, transport operators and EH&S providers. See our full line of solutions at labelmaster.com.