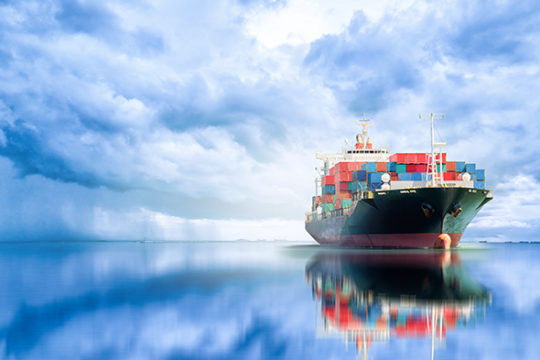 As the nation transitions into the fall season, regulatory activity in the US sector remains minimal.  FRA and FMCSA both issued actions, many of them concerned with a variety of hours-of-service issues for employees; we'll cover those.  However in big international news, the IMO has released its update of changes that will be incorporated into the upcoming Amendment 39-18 of the IMDG Code, which is the text that shippers use to move DG via ocean carriers.  We'll discuss that in more detail below.  Here's all the latest:
IMO
As just noted above, the UN body published its list of what it deems major changes that will appear in the upcoming Amendment 39-18 of the IMDG Code.  Those changes will be permissible on a voluntary basis as of 1/1/2019, with mandatory adherence as of 1/1/2020.  Here's what the IMO had to say about it:
Throughout the text 'risk' now reads 'hazard' and 'risks' reads 'hazards'.
There is a new paragraph 2.0.6, Classification of articles as articles containing dangerous goods N.O.S.
A new entry for 3227 was added to the table in paragraph 2.4.2.3.2.3 for Class 4. New entries for 3109, 3116, 3119 were added to the table in paragraph 2.5.3.2.4 for Class 5.2.
Chapter 2.8, Classification of corrosives, has been overhauled.
There is clarification in paragraph 3.1.2.2 that only the more applicable PSN be used when there are several distinct ones under one UN Number.
The stowage categories for several class 1 entries have been amended.
There have been several updates in chapter 4.2 to existing packing instructions and a few new packing instructions added.
There is a new IMO type 9 tank added for road gas elements vehicles for the transport of compressed gases of class 2.
In chapter 5.2, paragraph 5.2.2.2, the specimen labels are now presented in a landscape table.
Chapter 5.3 is now extended to cover bulk containers.
Part 6 has several minor changes to some of the chapters.
There is a new table added to paragraph 7.2.6.3, which provides segregation exemptions for organic peroxides UN numbers 3101 to 3120 with sub-risks that clash with other organic peroxides.
Section 7.3.7 is restructured to merge the amendments to the Model Regulations and the existing text.
Eighteen new segregation groups are identified (see paragraph 3.1.4.4)
Section 7.2.8 has been updated to reflect the new segregation group codes.
SG1 has been amended and new segregation codes SG76, SG77 and SG78 added.
Updates to the IMDG Code Dangerous Goods List (DGL) :
There are new entries TOXIC SOLID, FLAMMABLE, INORGANIC, N.O.S. (UN 3535) and LITHIUM BATTERIES INSTALLED IN CARGO TRANSPORT UNIT (UN 3536).
There are new entries UN numbers 3537 to 3548 covering 'ARTICLES CONTAINING DANGEROUS GOODS'.
The eighteen new segregation groups have now been coded and included in column 16b of the DGL (note: if a substance belongs to a segregation group (as identified in paragraph 3.1.4.4) it is now identified in the DGL, column 16b, by inclusion of the 'SGG' code. The intention is to make the identification of belonging to a segregation group more easily recognizable directly from the DGL).
The heading in column 4 of the DGL now reads 'subsidiary hazard(s)'.
Many substances in the DGL have now been assigned SG35, SG36 and/or SG49 (stow separated from acids/alkalis/cyanides)
The EmS guide has been updated and revised to reflect new assignments in column 15 of the DGL.
Of particular note are the new classification requirements that affect Class 8's, the DGL changes—note the Lithium Battery issue, and the many changes to segregation, which could affect how shippers pack their containers.  To see the formal IMO document announcing the changes, see more here
FRA
This agency issued a notice detailing the application procedures and requirements to obtain remaining grant funding for eligible positive train control (PTC) system projects of the Consolidated Rail Infrastructure and Safety Improvements (CRISI) Program. The funding remains from the 2018 Appropriation after DOT selected applications submitted in response to an initial NOFO for PTC systems deployment published on May 18, 2018. Applications under this solicitation are due no later than 5 p.m. EDT, October 12, 2018.  Here's your portal
The agency has published an ICR that will investigate the efficacy of emergency notification signage at public grade crossings.  Crossing incidents remain the top cause of rail-related injuries and fatalities, and FRA is looking at ways to improve the ability for drivers and pedestrians to notify the railroad about potential problems at the crossing.  The ICR lays out the major points here
In another ICR, FRA published a correction to its recent amendment of the new electronic record-keeping rule modification pertaining to small (defined as less than 400,000 recordable employee hours per year) operators.  See the correction right here
FMCSA
The agency published an ICR addressing the registration and certification requirements for vendors of approved Electronic Record-keeping Devices, or ELD's.  These are intended to record hours-of-service.  See the notice here
In Hours-of-Service news, FMCSA announced another public listening session dealing with its proposals to change current hours of service rules.  This session will be held in Reno NV on September 22nd.  The primary topics to be considered are:

Expanding the current 100 air-mile "short-haul" exemption from 12 hours on-duty to 14 hours on-duty, in order to be consistent with the rules for long-haul truck drivers;
Extending the current 14-hour on-duty limitation by up to two hours when a truck driver encounters adverse driving conditions;
Revising the current mandatory 30-minute break for truck drivers after 8-hours of continuous driving; and
Reinstating the option for splitting up the required 10-hour off-duty rest break for drivers operating trucks that are equipped with a sleeper-berth compartment.
Petitions received from the Owner Operators and Independent Drivers Association and Trucker Nation.
Here's the link for further information about the session
---
Labelmaster is a full-service provider of products, shipping and training software, and professional consulting services to assist the DG and HS&E professional to comply with national and international regulations.  See our full line of solutions at www.labelmaster.com