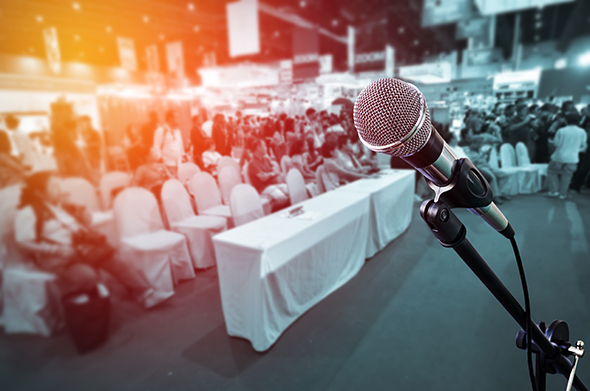 Adrian Gonzalez, driving force behind Talking Logistics and founder of Adelante SCM, will deliver the opening keynote address of the 12th annual Dangerous Goods Symposium, September 6–8, 2017, in Chicago.
You might know Adrian Gonzalez as the host of Talking Logistics, the online video talk show and blog featuring thought leaders and newsmakers from throughout the supply chain and logistics industry.
Next week, you may know him as the guy who changes your thinking about the role of Dangerous Goods compliance in your organization.
Gonzalez will bring his nearly two decades of research experience in supply chain and logistics to his keynote address at next week's Dangerous Goods Symposium: "What business are you in? Time for a new answer."
Here's a quick preview.
How to become a company of tomorrow?
"Clockspeeds are accelerating," Gonzalez says, citing Charles Fine's 1998 book, Clockspeed. "Every industry has its own evolutionary life cycle, with new products and new processes. Some are faster than others, but every industry is changing faster today than it was 10 years ago, and in 10 years change will be even faster."
Every Dangerous Goods professional knows it's a challenge to keep up with the rate of change in our industry. It's not enough to be a company of today—how can your company become a company of tomorrow?
Gonzalez offers three answers:
Unlearn the way we've always done it. Gonzalez suggests moving away from the term supply chain. "The word 'chain' suggests something linear, rigid, locked in, but that's not the reality. I prefer the terms 'supply networks' or 'network effects,' which open up a different perspective."
Stop shoveling snow with a dustpan. "Every industry is becoming more customer-centric. Think about yourself as a retail shopper—you have no patience for a poor experience. Margins of error are shrinking. Yet many companies still do business with faxes and spreadsheets—the IT equivalent of trying to shovel 21 inches of snow with a dustpan."
Stop confusing cooperation with collaboration. "Just because you attend a 'cross-functional meeting' and exchange information with one another does not mean you're collaborating; you're merely cooperating with each other. True collaboration requires a shared vision statement and alignment of metrics across functional groups, but many companies still work in functional silos, each with its own metrics that often conflict."
A broader, more strategic perspective
Many DG pros will read the above suggestions and protest, "Sure, I would love to do all that, but the people who run my company don't see compliance as a priority."
Gonzalez believes DG pros can change how their C-suite management views Dangerous Goods. He says his main takeaway is "to look at your role from a broader, more strategic perspective."
That perspective requires a different answer to the question, "What business are you in?"
"Instead of saying we're in the Dangerous Goods business, what if we say we're actually in the supply chain risk management business? If you want to capture the attention of your CEO, how do you cross the chasm from Dangerous Goods being a cost center to having it viewed as a competitive weapon?"
Good question. We look forward to the answers next week at the Dangerous Goods Symposium.
The 12th annual Dangerous Goods Symposium—September 6–8, 2017
Labelmaster will host the 12th annual Dangerous Goods Symposium September 6–8, 2017, at Chicago's historic Drake Hotel.
If you're a Dangerous Goods professional, you attend this event. It's as simple as that. You'll never find more DG knowledge or experience in the same place, anywhere. No other event offers this depth of opinions and insight into the transport of hazardous materials.
Labelmaster is a full service provider of products and services for the Hazardous Materials and Dangerous Goods professional, shippers, transport operators, and EH&S providers. See our full line of solutions at www.labelmaster.com.