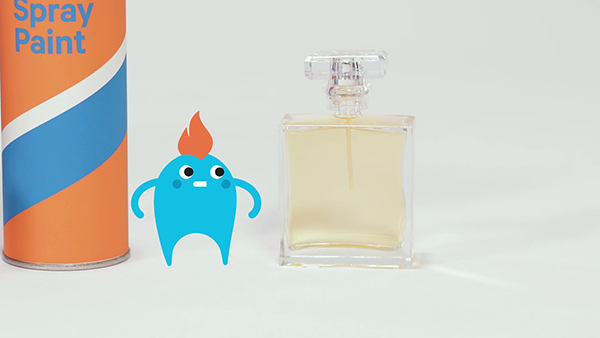 Hazardous Matt is on a roll, and the "plain brown box" is in retreat.
This time last year we took a first look at the U.S. Department of Transportation's Check the Box program, a multimedia campaign that addresses the ongoing problem of undeclared Dangerous Goods—also known as the "plain brown box." The star of the campaign is Hazardous Matt, a quirky blue fella with flaming orange hair who steers shippers to the resources they need.
Check the Box and Hazardous Matt are necessary because, frankly, too many shippers don't know what they don't know. That's one reason more than 1,500 transportation incidents every year are linked to undeclared hazmat.
Many common household items are regulated hazmat because, under certain conditions, they can be dangerous to people throughout the supply chain. But Dangerous Goods regulations don't protect anyone if shippers don't know they're shipping Dangerous Goods. And that's exactly what too many shippers don't know.
"The campaign's number-one focus is to provide awareness," says a DOT spokesperson. "We want to help people answer the question, 'How do I figure out if it's hazmat?'"
580,000 views in less than a month
Check the Box, launched in 2018, raises awareness with educational materials and consumer-friendly resources that help FedEx, UPS, modal partners, USPS and mail carriers get the word out. The goal is to get more shippers to—literally—check the box they're shipping to make sure they're not inadvertently shipping hazmat.
Hazardous Matt urges anyone who thinks they may be shipping hazmat to request a Safety Data Sheet (SDS) from the item's manufacturer. Or they can call the Hazardous Materials Information Center toll-free at 800.467.4922 or send questions via email to infocntr@dot.gov.
Is the campaign working? The DOT spokesperson says their 2019 back-to-school campaign featuring this 30-second video logged more than 580,000 views in less than a month. The campaign made 9 million impressions and prompted 21,000 clicks to the Check the Box website.
"We're incrementally increasing traffic," she says, "and identifying ways to land larger collaborations and leverage their footprints."
Collaborations get the message out
Some of the collaborations DOT has forged for Check the Box will vastly increase the campaign's reach and visibility:
They will place digital display ads in the 4,000 most-visited U.S. Postal Service stores—30 to 60 seconds of a 7-minute loop playing near the cashier—designed to attract people while they're in line. The spokesperson says, "Seven minutes is about how long people wait in line, so everyone should see it at least once."
Their collaboration with Amazon may include links on the giant's seller education pages, targeted at merchants who fulfill their own shipments.
New organizations linking to Check the Box from their own websites include the Commercial Vehicle Safety Alliance, COSTHA, UPS and FedEx. The DOT spokesperson adds, "Other companies such as Toyota and DHL have asked to use our materials for internal education, and we share non-exclusive royalty-free licenses for the files."
They've also partnered with the EPA to create lithium battery recycling workshops.
"We've made a lot of progress."
The PHMSA Outreach and Engagement team also attends lots of conferences—and not just hazmat-focused events such as the Dangerous Goods Symposium.
"We go to conferences like the International Beauty Show and events for home improvement retailers and Internet retailers," says the DOT spokesperson. "Aerosols are the top item involved in undeclared hazmat incidents, because people don't even consider them hazmat. One company president said they didn't sell hazmat because they're 100% organic."
(insert facepalm)
The spokesperson continues, "Now beauty schools ask us to come talk to their students. It seems like we've made a lot of progress, but there are millions of shippers and we don't know who they all are.
"Our goal is larger and more ambitious—hopefully, someday we'll be as well known as 'Buckle Up America.'"
Make sure your shipments are safe and in complete compliance with a full line of solutions from Labelmaster—a full-service provider of goods and services for hazardous materials and Dangerous Goods professionals, shippers, transport operators and EH&S providers.