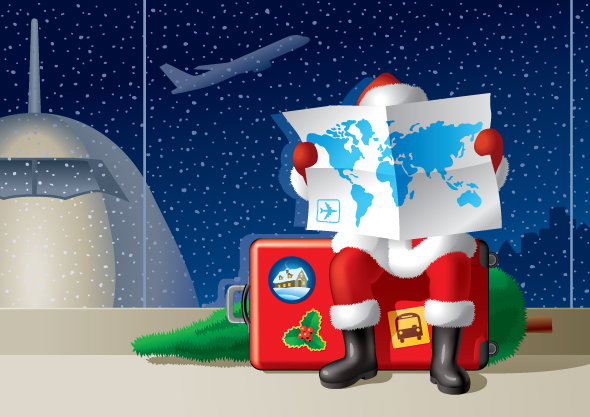 When you think about it, it's amazing that we think nothing about flying thousands of miles to visit friends and family over the holidays. Flying is relatively inexpensive if you plan in advance, and—despite the airport crowds and potential weather delays—rarely qualifies as any kind of adventure.
Beyond that, flying is also tremendously safe. In fact, we're currently enjoying the safest period in aviation history.
But while the aviation infrastructure and the planes themselves are the safest they've ever been, the real hazard in the air is airline passengers. As Dangerous Goods professionals, we and our families should make sure we're making air travel safer, not more hazardous.
Don't be the human equivalent of a hazardous material! Your fellow air passengers here at Labelmaster would like to highlight for you these four key air travel safety reminders:
1: Pack your lithium batteries properly.
Back in April, ICAO took the unusual action of prohibiting rechargeable lithium batteries as cargo on passenger aircraft. Their concerns about the severity of fires involving lithium ion batteries proved to be prescient (see part 2), and shippers have been adjusting ever since. (Labelmaster's Special Permit Packaging has, at least, made shipping such batteries by ground less headache-inducing.)
But the rules apply to individuals as well as businesses, so if you are traveling with extra batteries, make sure they are in your carry-ons, not your checked bags. Furthermore, follow these guidelines from the FAA:
Keep batteries in their original packaging
Tape over electrical connections with any adhesive, non-metallic tape, or
Place each battery in its own individual plastic bag
2: Leave your Samsung Galaxy Note7 smartphone at home.
In September, we started hearing reports of problems with the Samsung Galaxy Note 7, the newest smartphone in the heretofore trouble-free Galaxy line. The problems? The phones caught fire with the slightest provocation.
In October, the FAA banned the Galaxy Note 7 from passenger aircraft, both in checked baggage and carry-ons, on flights to, from or within the United States. Passengers who listen to the pre-flight announcements from the cabin crew know about the danger, as airlines have added this warning to the passengers' safety briefing, just in case one or two passengers haven't heard about the problem.
If you haven't taken advantage of the complete, US Consumer Product Safety Commission-mandated recall, please remember that your Galaxy Note 7 is not welcome on board any US aircraft.
3: In an emergency, leave your baggage behind.
August brought the latest news reports of passengers taking valuable seconds to retrieve their cabin baggage before evacuating airplanes during an emergency.
Fortunately, this severe lack of common sense didn't cost any lives—this time.
Seconds are literally the difference between life and death in airplane evacuations, yet some passengers ignore the safety briefing they've heard dozens of times and take those seconds to retrieve their laptop, backpack or a clean shirt!
Grabbing your gear out of the overhead bin may only take a few seconds, but every bag has the potential to clog the aisle for passengers behind you. And if you should be fortunate enough to escape the cabin, your bag can become a high-speed hazard to you or anyone else on the evacuation slide.
4: Plan ahead and follow the rules.
On behalf of travelers everywhere, we'd like to ask you to do a little pre-planning this busy holiday season.
Flying is safe because airlines, travelers and regulators each do their part to make it so. That means making sure we know what is not permitted on board the airplane—from liquids and gels, to sharp tools and implements, to hazardous materials. It means listening to and following the flight attendants' instructions, and it means being aware and responsible for the safety of ourselves and those around us.
The mission of the Federal Aviation Administration is to keep us all safe. They have some really neat stuff on their website.
Fly safe!
---
Make sure your shipments are safe and in full compliance with a full line of solutions from Labelmaster—a full-service provider of goods and services for hazardous materials and Dangerous Goods professionals, shippers, transport operators and EH&S providers.