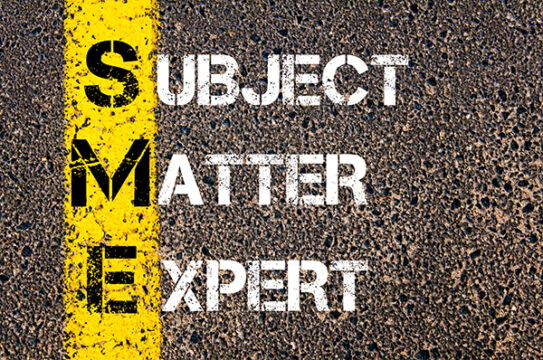 If your organization ships Dangerous Goods with any frequency, you probably have one person whom everyone else goes to with hazmat questions. They're the go-to guy, the resident wise woman, the walking DG shipping manual—in other words, the internal subject matter expert. And they're indispensable to your operation.
Where did your internal hazmat transport SME come from? And how do you train a new one?
That's the subject of an April 21 webinar from Labelmaster Senior Consultant Alicia Saenz. She'll discuss the importance of having an internal hazmat SME, how to find one within your organization, and how to train them to be your next indispensable resource.
Why is an internal hazmat transport SME essential?
"If you don't have an internal SME, you probably have a lot of compliance gaps," says Saenz. "Without that person you could be vulnerable to penalties and fines, because there's nobody to indicate when there are updates to labels, or point out that a certain packaging isn't authorized anymore, or to remind your team about recurring training."
"You need someone policing your compliance and doing internal audits, whether or not management has dictated that it happens. A great SME knows how to reach out to others, how to network and leverage relationships within and outside the organization."
But is one SME enough? Not according to LaQuita Donald, Director of Safety, Environmental & OSHA Compliance at Genuine Parts Company. "Tomorrow's not promised. What if your internal SME retires or takes a new job? Finding and training a new internal SME is the highest form of succession planning and leadership.
"I've been in a situation where there wasn't adequate succession planning. When someone leaves, it's mass pandemonium."
How do you identify the hazmat SME in your organization?
Saenz and Donald agree your next internal hazmat transport SME is probably already in your organization. But how do you find them?
"There's no playbook for this," says Saenz. "Look for someone who's intrigued by the DG world and has a genuine interest in learning more about it. They find the subject matter interesting and challenging. They also have to be someone with both comprehensive book knowledge and hands-on experience."
Donald recommends looking for someone who is "engaged in the process, who doesn't just work their eight hours and go home. They have pride, they're responsive, and they seek to continually learn. They're receptive to instruction and criticism and they're willing to take ownership of the process."
"I look at it kind of like extracurricular activities in school," adds Saenz. "You need someone who does it because they're passionate."
How do you train your new Dangerous Goods expert?
"Mentoring a new SME begins with trust and respect," says Saenz. "It's a two-way street, a partnership with open communication between the mentor and the SME being developed. There's a real time commitment, and it goes beyond the two parties involved. You need to have company-wide buy-in, or it can hinder development."
Donald advocates peer-to-peer mentoring with the new SME shadowing the mentor. "It helps build confidence to see what that role looks like—a conscious, intentional effort at real world experience."
She urges mentors to "allow the trainee the opportunity to learn what you know. It can be scary! I look at it as, when my season is over, I don't want to take everything I know with me—I need to share it with the right employee. It's impossible to tell them everything, but I can give them the footing to make them successful."
Saenz herself started as a warehouse worker, and with training became an SME. "I learned that in hazmat, every day is different—there's always a question no one's ever asked, new interpretations. I find it interesting and hope there are others who do, too.
"For me it would come naturally to find and train someone else."
Don't miss Is Your Next Hazmat SME Already in the Building? — Wednesday, April 21 at 3:00 pm Central US. Stream it here.
Make sure your shipments are safe and in complete compliance with a full line of solutions from Labelmaster—a full-service provider of goods and services for hazardous materials and Dangerous Goods professionals, shippers, transport operators and EH&S providers.