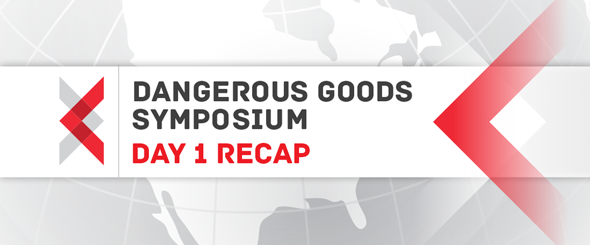 The world's foremost Dangerous Goods professionals met today in Chicago to discuss the serious business of hazmat transport, and by 1:00 in the afternoon the place had the atmosphere of a campfire.
Well, okay, there was no actual campfire. (What would OSHA say?) But there were s'mores on the tables—and, more important, there was storytelling. Because who doesn't love a good hazmat story?
Here were some highlights from Dangerous Goods Symposium, Day 1.
The ICAO Training Revolution—Competency Based Training
Teun Muller, of the Netherlands' Ministry of Infrastructure and the Environment, discussed proposed ICAO amendments that would make competency-based training (CBT) the standard for hazmat professionals.
CBT is function driven—defining tasks, setting standards and training employees to meet those standards, regardless of their job titles.
Muller gave detailed guidance for establishing a CBT program that would lead to safer workplaces and more effective Dangerous Goods transport.
Tales from the Campfire—Best Practices in Practice
Gene Sanders of W.E. Train Consulting and Pierre Boies of KargoSecur led this session based on the scary stories hazmat trainers would tell around a campfire, if they actually had one. People remember stories—and the lessons they learn from them.
Sanders and Boies derived a "moral" for each story told by an attendee, and wrote it on a DO THIS or a DON'T DO THAT board. Some examples:
DO THIS:
Manage the classroom environment no matter where you are
Be honest, admit to yourself what you don't know

Set the stage for training to be exciting and engaging

Embrace the appropriate use of new technology

Encourage students to do outside the classroom training
DON'T DO THAT:
Don't expect that there's only one solution

Don't expect/act like you know everything

Don't treat every generation the same

Don't scare people away when talking about fines & penalties

Don't train in a vacuum
One final takeaway: The marshmallow, chocolate and graham cracker packages all had  different instructions for making s'mores—just as there are always different training instructions for the same hazmat rule.
What to Do When the Hazmat Enforcement Inspector Comes Knocking
Inspections are part of the Dangerous Goods business—and fines recently went up across the board. Fortunately, nobody knows more about preparing for inspections than Bob Richard, Labelmaster's VP of Regulatory Affairs, who's a former PHMSA regulator.
Some of his main points of advice:
Before inspections happen—Designate staff to interact with inspectors, c

onduct internal compliance assessments and c

reate a centralized file with copies of commonly requested documents.

During an inspection—Ask questions, take notes, invite designated employees to an exit briefing with the inspector, and read the exit briefing before you sign it.
After the inspection—Determine broader implications of any violations, make sure problems aren't repeated, and document your improvements. Also, draft a response to any enforcement action.
Of course, Richard reminded the audience, staying informed and automated compliance processes are the best way to make inspections rarer and more manageable.
Come back tomorrow for a recap of Dangerous Goods Symposium, Day 2!
Make sure your shipments are safe and in full compliance with a full line of solutions from Labelmaster—a full-service provider of goods and services for hazardous materials and Dangerous Goods professionals, shippers, transport operators and EH&S providers.