Transporting lithium batteries by air continues to get more challenging. Lufthansa has just imposed restrictions that go well beyond international regulations.
Here's a breakdown of the new restrictions, effective August 31*:
Complete embargo of excepted standalone lithium batteries from all aircraft.
These shipments will no longer be accepted on any Lufthansa Group passenger or cargo aircraft:
UN 3480—Lithium ion batteries
UN 3090—Lithium metal batteries
The carrier will continue to accept these excepted battery shipments, on both passenger and cargo aircraft:
UN 3481—Lithium ion batteries, packed with or contained in equipment in accordance with Section II of PI 966 and PI 967
UN 3091—Lithium metal batteries, packed with or contained in equipment in accordance with Section II of PI 969 and PI 970
Prohibition of all fully regulated lithium battery shipments from passenger aircraft
This prohibition applies to carriage of both standalone batteries as well as batteries packed with or contained in equipment, as regulated by Section I/IA/IB of PI 965-970.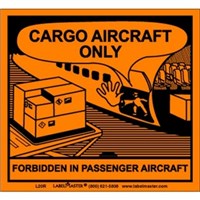 Lufthansa Cargo will continue to accept these fully regulated lithium batteries for transport on freighter flights and road feeder services—they are only banned from passenger flights.
Most of these shipments must be booked, delivered and declared as "Cargo Aircraft Only" with packages bearing the ICAO specified label. For complete tables of the new restrictions and special handling codes, visit the Lufthansa Cargo website.
A challenging trend
This announcement continues a trend that began with Delta and United last spring, and gained stream with Boeing's guidance in July.
(The Rechargeable Battery Association keeps its members thoroughly updated on these issues, and contributed to this post.)
If you find this new landscape challenging, you're not alone. You can count on Labelmaster for the tools and resources to keep your lithium battery shipments compliant—and the advice you need to keep up with regulations and restrictions as they evolve.
Please don't hesitate to contact us with your questions and concerns about lithium battery transport—or any other Dangerous Goods issues. We can help!
*Shipments that were booked prior to August 31, 2015 may still be delivered to Lufthansa Cargo until September 30, 2015. Starting October 1, 2015, Lufthansa Cargo will only accept shipments that have been booked and delivered according to the new restrictions.