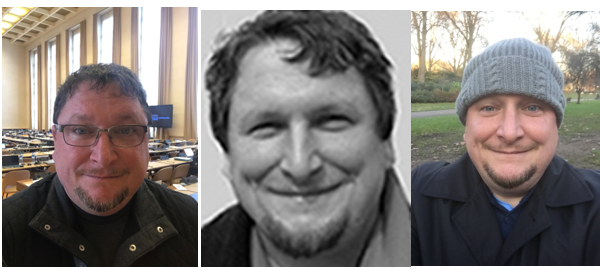 The next time anyone suggests to you that Dangerous Goods regulations are dry and boring, introduce them to Jay Johnson, our new Senior Manager at Labelmaster Services.
"I am really passionate about Dangerous Goods. I've been a shipper, a courier, a trainer and a UN specification packaging developer —I've worn all the hats," he says. "I'm very excited to work with Labelmaster. I've been to every Dangerous Goods Symposium and even presented at a few of them!"
Jay joined our team in September to share his expertise in hazmat packaging and logistics solutions for the chemical and biotech industries with our clients. He'll also be speaking on non-bulk packaging at January's COHMED Conference in Louisville, Kentucky.
Here's a quick introduction to Jay Johnson.
A two-minute Johnson bio
Johnson is an enthusiastic proponent of sound regulation and sensible enforcement. His career in Dangerous Goods began with a 1991 college summer job with Glaxo, whom he joined as a hazmat supervisor after graduation.
His credentials are deep and wide-ranging. He is:
A globally recognized expert on Infectious Substance transportation.
A leader of NGO delegations to the UN Sub-committee of Experts on Transport of Dangerous Goods
A member of the Council on Safe Transportation of Hazardous Articles (COSTHA)
A board member of the Dangerous Goods Trainers Association, Inc. (DGTA)
Past chairman of the Dangerous Goods Advisory Council (DGAC)
A Dangerous Good Safety Advisor (DGSA) in Europe
An approved Dangerous Goods instructor by the U.K. Civil Aviation Authority (CAA)
He says, "I'm thrilled to join an industry leader such as Labelmaster to help companies shipping DG identify the process gaps that put their global supply chain at risk. We can help them establish more efficient practices for handling and shipping hazmat compliantly and safely."
Before joining Labelmaster, Johnson served as regulatory compliance manager at Inmark Packaging and director of worldwide clinical trials for QuickSTAT.
COHMED Conference preview
Johnson believes hazmat shippers can benefit from closer relationships with enforcement agencies. That's why he's such a big proponent of the Cooperative Hazardous Materials Enforcement Development (COHMED) Conference.
"It's an opportunity to hear PHMSA's point of view and meet enforcement officers," he says. "You can sit down with the guy who audited your facility or stop your trucks. If you're wondering what an enforcement officer will ask in a given situation, you can ask them.
"You can build working relationships, because agencies want to know how they can do better. They'll ask, 'Is this fair? If we want this outcome to occur, what needs to happen?'"
Johnson spoke about transporting infectious substances at last year's event; this year he'll address questions about non-bulk packaging, including:
What shipments are more likely to be stopped? "It's about communicating risk—if the proper shipping name and the label don't match up, or the label's on wrong, or it's over gross weight then inspectors are going to take a closer look."
What kind of box do we need? "Some people want to use 4GV packaging for everything, but it's much more expensive—4GVs are over-engineered for when you do not have control over the primary receptacles. Don't make the exception the rule! You might be able to use 4G packages for the 99% of your shipments and use 4GV for the 1% odd primaries."
Next time, we'll talk to Johnson about infectious substances—stay tuned for "Fast, Airborne and Contaminated." Meanwhile, feel free to connect with Jay Johnson via email, or visit our Services page to start making hazmat compliance a value-enhancing revenue driver.
Make sure your shipments are safe and in complete compliance with a full line of solutions from Labelmaster—a full-service provider of goods and services for hazardous materials and Dangerous Goods professionals, shippers, transport operators and EH&S providers.