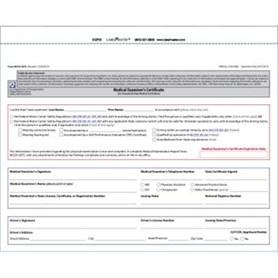 On Monday December 7th, 2015, the Federal Motor Carrier Safety Administration (FMCSA) posted example copies of the revised Medical Examination Report Form (MCSA-5875) and Medical Examiner's Certificate (MCSA-5876) on the FMCSA website. See below:
https://www.fmcsa.dot.gov/medical/driver-medical-requirements/medical-applications-and-forms
The FMCSA mandated use of the new forms in a Final Rule amending the FMCSR published in the Federal Register on April 23, 2015.  The FMCSA amended the rule on June 22, 2015.  Here are the relevant links:
Labelmaster regulatory staff have been in contact with FMCSA since June and monitored the additional modifications made to the forms prior to the December 22, 2015 mandatory compliance date. The FMCSA should publish the new forms in a Federal Register notice soon.  It's important to note that the new forms CAN NOT be used prior to December 22, 2015.
Late word on potential compliance date change
As a late note, just prior to publication of this blog a rumor surfaced in the regulatory community that the mandatory compliance date of December 22nd, 2015 may be delayed.  The accuracy of this information is not known at press time.
To help our customers stay compliant with the regulations Labelmaster sells the current (old) forms.  We  accept pre-orders for the new MCSA-5875 and MCSA-5876 in several convenient formats.  Labelmaster is a full service provider of goods and services for the Hazardous Materials and Dangerous Goods professional, shippers, transport operators, and EH&S providers. See our full line of solutions at www.labelmaster.com or call and speak with our customer service staff at (800) 621-5808.