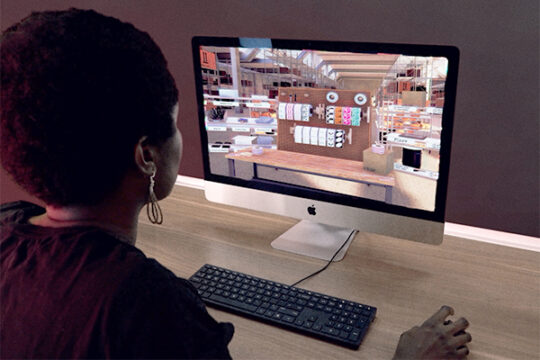 Regulations require training for anyone involved in the transport of Dangerous Goods, but forward-thinking organizations know training can also boost efficiency, reduce errors and improve overall performance.
One thing hazmat training has never really been? Fun.
But now we're changing that. Several of our most popular industry-leading online training courses (see below for a complete list) now come with an immersive, game-inspired 3D experience that lets you practice what you've learned in an engaging, realistic warehouse setting. Basically, you'll learn more, and you'll have fun doing it.
An immersive experience—no special gear required!
Our online training courses haven't changed—they're the same format. You'll learn the most critical information from the latest regulatory manuals, do interactive quizzes and activities to give your mind a break and strengthen your recall, and take a final assessment to achieve your training certificate.
This new immersive experience doesn't change anything about that—it's a separate, complementary experience you can explore again and again, independent of the rest of the course.
And what an experience! You'll find yourself at the DG desk in a warehouse, handling the critical details of shipment management:
Preparing items such as flammable liquids or lithium batteries
Locating and reading shipping instructions
Selecting the correct outer packaging
Assembling packaging according to closure instructions
Selecting appropriate labels and markings
Placing labels and marks on the correct locations of a package
You'll get scored on what you do right or wrong, and making too many mistakes has consequences. You can try the experience over and over, helping you learn how to do your job better. But don't worry, the result you achieve in the 3D experience does not affect your certification.
And no, you don't need special goggles or a headset—just a desktop computer with an internet connection.
Training people the way they feel most comfortable learning
"With this experience, we're raising the bar on competence," says Labelmaster Director of Global Learning Rhonda Jessop. "You feel like you are part of the environment, so you'll feel more comfortable making those decisions in real life.
"You have to make the right decisions—and if you don't, you can do it again and again so you learn to avoid making those mistakes in the real world."
If this experience looks like one of the 3D role player games your kids play, that's no accident.
Jessop adds, "We worked with a gaming company to develop this because we hear from younger people who say, 'I'm new in this industry and this is how I want to learn, by playing a game.' I'm a big believer in tailoring learning styles to different age groups. If we want to attract younger people to this industry, we have to train them the way they feel most comfortable learning."
So it's a game, and it's fun. But will people truly learn from it?
"It's a tough exercise! The first time I did it, I got a lot wrong, and I've been in this business 20 years," says Jessop. "You're going to struggle and you'll have to do it more than once, so you'll reduce the likelihood of making those errors in the future."
Making hazmat training a growth opportunity
Every hazmat employee needs to be trained, so why go to the trouble of creating such an advanced experience?
Because, while many organizations may view training as a necessary evil, forward-thinking operations know it's a growth opportunity. 33% of DG pros have said that if their companies made more resources available, they would put those resources toward improved employee training.
Virtual reality and 3D experiences have become part of the training regimen for some of the world's largest, most successful companies. In Dangerous Goods, an eLearning strategy featuring immersive 3D training can add business value through cost savings, higher productivity, faster onboarding, greater employee convenience and enhanced interactivity.
In other words—immersive hazmat training isn't just more fun. It's better business.
Labelmaster's 3D immersive training experience is available with the following courses:
Make sure your shipments are safe and in complete compliance with a full line of solutions from Labelmaster—a full-service provider of goods and services for hazardous materials and Dangerous Goods professionals, shippers, transport operators and EH&S providers.