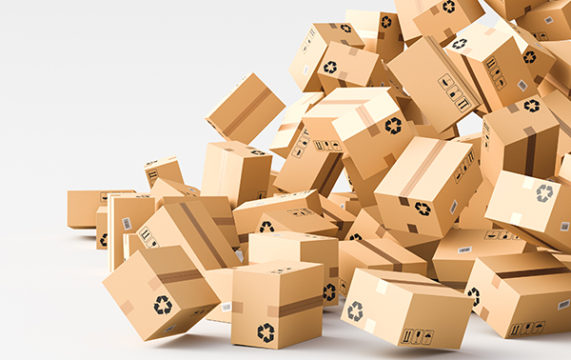 How much more complex and challenging can shipping get?
You're doing everything you can to satisfy customers' demands for fast, free delivery. You aim to be omnichannel, decentralized, parcel-optimized and cost-conscious. You keep inventories as tight and fluid as possible without ever having to say, "Sorry, we're out."
Oh, and every shipment is fully compliant with Dangerous Goods regulations, too. Right?
If all that sounds like your operation—or where you'd like your operation to be—how do you pull it all together? How do you optimize every shipment without worrying about hazmat compliance gaps?
Those are the questions Labelmaster and Pierbridge can help you solve.
New normal, new challenges
Today's customers know exactly what they want, and they want it as quickly and inexpensively as possible. That's why decentralized, omnichannel shipping is the new normal.
But the new normal brings new challenges:
Finding the most efficient way to cartonize shipments when carriers charge by dimension, not just weight
Ensuring hazmat compliance when shipments originate from multiple points and travel by multiple modes
These challenges don't exist independently—in fact, each one can sometimes make the other more difficult.
Pierbridge Director of Product Management Mike Graves, says, "Cartonization traditionally meant leaving the least void space, but now it means finding the most efficient way to ship a solution. No one wants to pay to ship air, so carriers try to have as much density as possible.
"Sometimes it might be more efficient to combine two smaller boxes into one bigger one, but sometimes the converse might be more efficient."
To optimize cartonization for today's carrier demands, Pierbridge developed its Opdimizer software, which facilitates parceling by dimensional rating, not just weight.
Hazmat adds a whole new level of complexity
As complex as parcel optimization can be, including Dangerous Goods adds a whole new level of complexity.
Graves says, "Certain Dangerous Goods can't be packed together. Others may have to be packaged upright." He recommends integrating with Labelmaster's DGIS software to error-proof and streamline the cartonization process when hazmat is involved.
The shift to omnichannel shipping has also compounded the complexity of hazmat compliance. To facilitate the fastest delivery, shipments to a customer may originate from a local store, not a centralized distribution center. Graves says, "There's not one single compliance officer anymore. How do you take that knowledge and enforce it at the store level?"
The answer involves automation to ensure compliance. Graves cites a major shipper who frequently ships items from a 10,000-store retailer direct to customers. "If there's DG, the order gets routed to the compliance team for completion and approval. Then it ultimately goes to the store with specifications for the label, packing list and what box is required.
"All the store employees have to do is collect the documents and put the labels on the box."
Yes, it's a brave new world. Get a handle on its complexities and challenges—join us for this free webinar on July 25.
Webinar: The Brave New Omnichannel Shipping World
This free webinar from Labelmaster and Pierbridge will help you embrace and profit from the major trends and high-level challenges of omnichannel Dangerous Goods transport:
Meeting customer demands for free and fast shipping
Avoiding inventory outages
Getting closer to the customer
Meeting the needs of decentralized shipping: DG compliance, packing for profits, and carrier and rate selection
You will learn:
How to stay DG-compliant and avoid fines and penalties
How to integrate omnichannel shipping through stores, suppliers and specialized carriers to better manage inventory, speed delivery time and improve delivery convenience
How to pack for success to reduce shipping costs, waste and unexpected fees
How to make the best carrier rate and route decisions for efficient and speedy shipping
View the recorded webinar now!
Make sure your Dangerous Goods shipments are safe and in complete compliance with a full line of solutions from Labelmaster—a full-service provider of goods and services for hazardous materials and Dangerous Goods professionals, shippers, transport operators and EH&S providers.
Pierbridge, Inc. is a leading developer of parcel and freight transportation management software (TMS). Founded in 2004 by an experienced executive team with a proven track record for success in the TMS industry, Pierbridge is now a member of the WiseTech Global Group with presence in 130 countries. Their enterprise shipping platform, Transtream, is trusted by some of the largest 3PLs, retailers, manufacturers and distributors in the world to process 500+ million parcel and freight shipments every year.