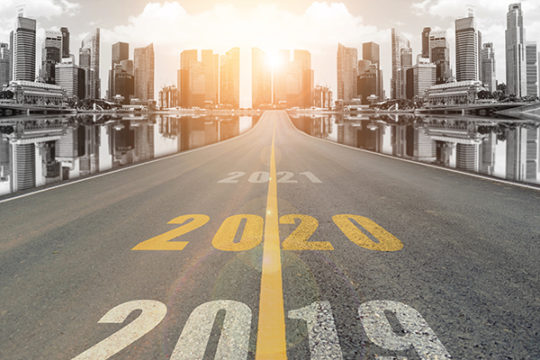 The biggest regulatory news in 2019 may have been something that didn't happen—PHMSA's HM-215O International Harmonization rule, which would have aligned U.S. regulations with the most recent UN Model Regulations, ICAO Technical Instructions and IMDG Code.
HM-215O will almost certainly be formalized in 2020. Meanwhile, here's a look back at the significant regulatory developments that did happen in 2019, and a look forward to 2020.
Dangerous Goods regulatory highlights of 2019
New Class 9 lithium battery labels
January 1, 2019 was an important day, with the new lithium battery marks and new Class 9 lithium battery labels becoming mandatory and the old lithium battery handling labels becoming obsolete. Despite plenty of advance warning and nearly a year of the new rules being in force, I was surprised that, up until a couple of months ago, people were still trying to find the old labels on our website.
Harmonization of lithium battery safety provisions
After a wait of nearly three years, PHMSA finalized an IFR that harmonizes rules for shipping lithium batteries by air with those enacted by ICAO in 2016. These rules, which went into effect immediately:
Prohibited the transport of standalone lithium-ion cells and batteries as cargo on passenger aircraft (but not lithium-ion cells and batteries contained in or packed with equipment);
Limited standalone lithium-ion cells and batteries to a 30% state of charge, with certain exceptions; and
Limited excepted shipments of lithium-ion and metal cells and batteries to one package per consignment or overpack.
PHMSA also added its own wrinkle—a requirement that road and rail shipments containing excepted lithium-ion cells must display not only the lithium battery mark but also either the Lithium Ion Batteries—Forbidden for Transport Aboard Passenger Aircraft mark or a Cargo Aircraft Only label. The purpose of this requirement was to ensure such shipments would not be loaded on passenger aircraft at any point in the supply chain.
U.S. Postal Service tests smaller labels
The USPS launched a feasibility study allowing limited shippers to use smaller Limited Quantity and Excepted Quantity labels on mailed packages.
This isn't exactly regulatory news, since no new regulations were involved, but it does show that the agencies that enforce the regulations are listening to the industry.Every shipper wants to use the smallest package possible to reduce the costs of packaging and shipping, but many are forced to use larger packages just to accommodate Dangerous Goods labels and marks. Smaller labels enable smaller packagings, so kudos to USPS for taking this initiative.
New civil penalties announced in July
At the end of July, four U.S. regulatory bodies announced increases of approximately 2.5% in civil penalties enforced for various regulatory citations. That's a typical annual increase that is meant to account for inflation. Taking note of the increased penalties gives hazmat shippers a reminder of the importance of regulatory compliance.
A look ahead at 2020 hazmat regulations
The 2016 IMDG Code will be obsolete
On January 1, 2020, the 38th Edition of the IMDG Code will officially be obsolete, so maritime shippers will have to comply with regulations as outlined in the 39th Edition from 2018. Unlike other regulatory publications, the IMDG code is issued every two years, so odd-numbered years are "transition" years during which shippers may comply with either the old or the new edition.
Look for the 40th Edition to become available sometime in 2020, with regulations that will be optional in 2021.
HM-219C may impose many revisions to DG regulations
PHMSA's HM-219C proposal will, if adopted, impose a number of relevant revisions to current Dangerous Goods regulations. For more detail on this proposal, I refer you to Nikki Burgess's DG Digest from August 19, 2019.
New Emergency Response Guidebook
2020 will see the release of the new edition of the Emergency Response Guidebook (ERG)—the essential resource for responding to transportation emergencies involving hazardous materials. Section 172.602 of the 49 CFR requires anyone who handles or transfers Dangerous Goods to provide emergency response information appropriate to those materials, and the ERG is the perfect way to do so.
And finally, HM-215O
One would hope that HM-215O will be formalized in 2020. Its impacts will be numerous and wide-ranging, with many relating to articles containing hazmat. I should note that DOT has issued an enforcement waiver notice that allows you to use the new international regulations without penalty, so there's no need to wait if your operation would benefit from using them immediately.
The most significant aspect of HM-215O might be the lithium battery test summary requirement taking effect for all U.S. manufacturers and distributors of lithium batteries and the equipment they power. The test summary requirement will already be mandatory for international shipments on January 1, 2020, so I'd recommend U.S. operations not delay in their preparations for compliance.
If you have questions about any Dangerous Goods regulations, please feel free to email Regs@labelmaster.com or ask for the Labelmaster Regs Hotline at 800.621.5808.
Happy Holidays!
Make sure your shipments are safe and in complete compliance with a full line of solutions from Labelmaster—a full-service provider of goods and services for hazardous materials and Dangerous Goods professionals, shippers, transport operators and EH&S providers.