Week of April 4, 2022
Linking supply chain news with dangerous goods compliance
It's both an exciting and challenging time in the automotive industry as businesses are driving innovation forward while dealing with parts shortages and supply chain challenges.  
Let's examine some recent industry news.
---
SUPPLY CHAIN NEWS
Two Years that Changed the Auto Industry: It's just over two years ago that the WHO declared that Covid-19 had pandemic status. Here's how the unprecedented public health crisis has changed the automotive industry. 
---
OUR PERSPECTIVE
DG is everywhere in the auto industry. Many automotive components are regulated hazardous materials – from airbags and engines to paint, fuel and lithium batteries. It's important for automotive companies to know which items are classified as hazmat and then stay up-to-date latest rules and regulations and understand the impact they have on their supply chain operations.  
EV market growth brings more logistics challenges. The growing electric vehicle market presents additional supply chain compliance challenges. Particularly, because EVs run on large-format lithium-ion batteries, which are fully regulated hazmat and add another level of complexity and risk due to their size and power. This is especially true when shipping damaged, defective or recalled batteries.  
Align compliance processes with industry changes. DG regulations are in place to ensure safety for employees, the public and the environment, and will continue to change along with the changing auto industry. To keep pace, auto manufacturers, distributors, suppliers and supply chain partners much also evolve their compliance practices to ensure compliance and position themselves to meet customer demand.   
Labelmaster is committed to providing the automotive industry with deep, global regulatory expertise, technology solutions and end-to-end management services for safely and compliantly transporting large format batteries and other dangerous goods. 
To learn more about Dangerous Goods software or how to establish a safer, more compliant supply chain, visit https://www.labelmaster.com.
Have questions about Dangerous Goods transport? Call the Labelmaster Regulatory Hotline at 1.800.621.5808.
---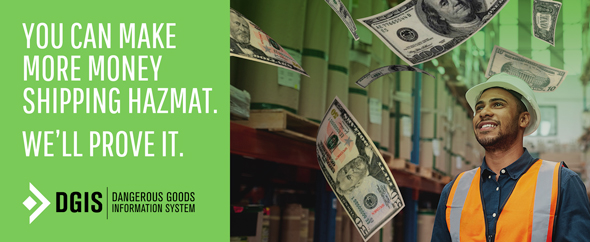 As the industry's most robust, flexible, and advanced hazmat shipping software, Labelmaster's DGIS can actually help your operation make more money. DGIS validates shipments and prepares DG declarations so quickly, you can handle more shipments every hour. And more shipments mean more revenue.
Try your own numbers in our calculator to see the added revenue DGIS can generate for you.

---