Week of August 17th 2020
Linking technology news with Dangerous Goods compliance
The dangerous goods supply chain complex, high risk and constantly evolving. That's driving more companies to leverage innovative technologies throughout their operations.
To help companies keep a pulse on technology trends impacting business and the movement of dangerous goods throughout the supply chain, Labelmaster has launched "Supply Chain Moves," a bi-weekly report linking the latest technology news to dangerous goods compliance.
Let's examine the recent supply chain technology and industry news.
---
TECHNOLOGY
Gartner: Eight Technology Trends in Supply Chain: As supply chain leaders seek to explore the benefits of digitalization, it has become critical to leverage innovative technologies that have the potential to disrupt supply chain operating models.
---
3PL TECH
---
Technology & Dangerous Goods Compliance
Shipping dangerous goods is complex and high risk, leaving professionals at various levels of organizations looking for information, searching to find answers to questions or simply trying to stay on top of the latest trends, challenges and regulatory changes. That was a driving force behind the creation of the DG Exchange—the dangerous goods industry's first digital community.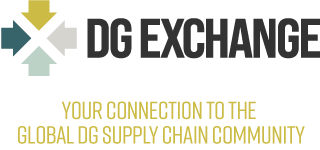 The DG Exchange is a one of a kind place where supply chain and business professionals can share ideas, learn and collaborate in order to navigate dangerous goods issues, challenges and trends—empowering them to positively impact their businesses.
The DG Exchange provides a range of opportunities for members to engage around the key trends and challenges impacting the dangerous goods industry.
The community is special because it's the individuals involved in the DG supply chain who are driving discussions, sharing content and collaborating with each other. That means you! You get to start the conversations. You get to make the connections. You get to post articles, blog posts and other resources you believe other members will find helpful.
Join the DG Exchange community to connect with your peers and access exclusive content to empower your organization to better manage dangerous goods.
To learn more about dangerous goods software or how to establish a safer, more compliant supply chain, visit https://www.labelmaster.com.
Have questions about dangerous goods transport? Call the Labelmaster Regulatory Hotline at 1.800.621.5808.
---

Labelmaster's Dangerous Goods Information System (DGIS) is the leading SaaS solution to help companies more efficiently and accurately manage their Dangerous Goods shipments. DGIS validates your Dangerous Goods shipment data against the latest regulations, ensuring a more efficient supply chain and reducing friction found in Dangerous Goods shipments. DGIS is a certified partner/validation solution with ERP, transportation and warehouse management systems.

---