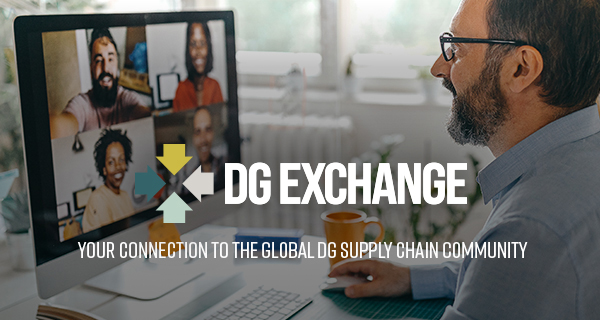 Not long ago, a longtime friend and colleague told us, "I wish the Dangerous Goods Symposium could somehow happen all year long."
That idea – a year-round place where supply chain and business professionals can connect and share their questions, insights and experience about Dangerous Goods—was the inspiration for the DG Exchange.
Launching August 10, the DG Exchange is the Dangerous Goods industry's first digital community, where supply chain pros from different organizations can come together to both positively impact their businesses and make the DG supply chain safer. The community offers a wide range of opportunities to:
Access insightful content and share/request resources
Attend educational events and training sessions
Engage with peers through open forums and other networking opportunities
Labelmaster Vice President of Marketing & Product Management Robert Finn says, "Shipping Dangerous Goods is complex and high risk, leaving professionals at various levels of organizations looking for information, searching to find answers to questions or simply trying to stay on top of the latest trends, challenges and regulatory changes. The DG Exchange is a one of a kind place where the entire supply chain can exchange ideas and information related to hazmat in order to improve supply chain performance, compliance, safety, and profitability."
So what exactly will you find in the DG Exchange, and how can it help make your hazmat transport operations safer and more efficient? Let's take a closer look.
A quick tour of every DG Exchange section
The DG Exchange combines live forums and published resources to give all members the information they need to navigate Dangerous Goods issues, challenges, and trends.
Once you join, you'll have unlimited, free access to every section of the DG Exchange. You'll be able to make connections with other supply chain pros and industry experts, chat about issues that impact your business, and dive deep into resources from myriad sources to find the insights you need.
Here's a quick tour:
Join now and take a look around!
Five places to start and join conversations
Dangerous Goods transport isn't just one subject—it's more like a university where every "college" has its own curriculum and requires its own level of expertise.
That's why the DG Exchange offers five distinct groups where you can start and join conversations:
There's also a Hazard Class 13 group, with live chats on whatever's trending—a great way to stay in touch with your connections around the industry.
Plus, every group has links to resources and events specifically related to that topic. So if you're participating in a chat in the Lithium Batteries group, for example, you're just one click away from the latest articles members have contributed about lithium batteries.
Is there a group you think should exist, but doesn't? Let us know!
Property of the entire Dangerous Goods community
We built the DG Exchange, and we'll manage it, but it's really the property of the entire Dangerous Goods supply chain community. That means you!
You get to start the conversations. You get to make the connections. You get to post articles, blog posts and other resources you believe other members will find helpful. You—and thousands of professionals like you—will determine how fast the DG Exchange grows and what directions it will take.
And it all starts August 10. Join today!
Make sure your shipments are safe and in complete compliance with a full line of solutions from Labelmaster—a full-service provider of goods and services for hazardous materials and Dangerous Goods professionals, shippers, transport operators and EH&S providers.