Week of December 21st, 2020
Linking technology news with Dangerous Goods compliance
As supply chain challenges continue to mount, companies are looking to technology solutions to help them navigate these uncertain times – whether it's responding to rapid e-commerce growth or preparing to distribute a COVID-19 vaccine around the world.
To help companies keep a pulse on technology trends impacting business and the movement of dangerous goods throughout the supply chain, Labelmaster has launched "Supply Chain Moves," a bi-weekly report linking the latest technology news to dangerous goods compliance.
Let's examine the recent supply chain technology and industry news.
---
TECHNOLOGY
---
3PL TECH
---
Technology & Dangerous Goods Compliance
Parcel continues to be the fastest-growing mode of transportation thanks to the rapid growth of e-commerce. Parcel shipping can also be complicated, which is why many shippers are relying on transportation management systems (TMS) to help manage the process.
In a recent episode of Talking Logistics, JP Wiggins, co-founder & vice president of logistics at 3Gtms, discussed how parcel is changing the way companies plan and optimize their transportation operations, and what parcel capabilities a TMS must have to be effective.
Wiggins notes that while parcel shipping may seem simple on the surface, the deeper you go into the details you realize how complicated it can be. "When most people think of parcel, they think of the business-to-consumer (B2C) side of it…But the business-to-business (B2B) side, where you're mixing parcel with other modes, that's when it gets complicated. Sometimes you may ship truckload, sometimes you may ship LTL, and sometimes you may ship parcel. When you have all those considerations, that's when you really need a TMS because the biggest bang for the buck in transportation is finding opportunities for consolidation."
He adds, "The biggest challenges are that you often don't get good detailed information from the ERP or order management system to use in the planning process." While Wiggins focuses on the importance of weight and dimension information to help with planning and minimize shipping costs, for companies shipping dangerous goods (DG), it's also important to consider what information and processes are needed to ship goods safely and compliantly…and if your TMS can support it.
As complex as parcel optimization can be, including DG adds a whole new level of complexity. Certain items can't be packed together, while others may have to be packaged upright. Additionally, DG shipments may also require additional labels, packaging or documentation.
Having a hazmat-intelligent parcel TMS solution in place can significantly improve this process. Unfortunately, most TMS (as well as ERP, WMS or OMS solutions) aren't built with either hazmat or multi-carrier parcel compliance as their main focus. Shippers may need to consider utilizing dedicated DG shipping software to help automate and streamline the process and ensure every parcel shipment is compliant with the latest regulations. Additionally, by selecting a DG software solution that can integrate with a TMS or other system organizations can have the functionality they need in a familiar interface.
To learn more about dangerous goods software or how to establish a safer, more compliant supply chain, visit https://www.labelmaster.com.
Have questions about dangerous goods transport? Call the Labelmaster Regulatory Hotline at 1.800.621.5808.
---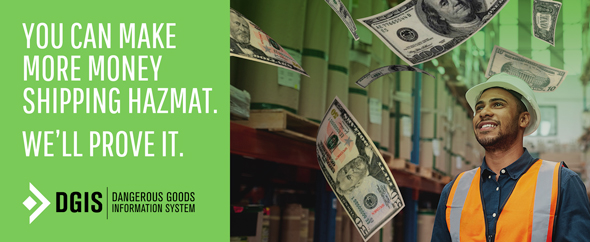 As the industry's most robust, flexible, and advanced hazmat shipping software, Labelmaster's DGIS can actually help your operation make more money. DGIS validates shipments and prepares DG declarations so quickly, you can handle more shipments every hour. And more shipments mean more revenue.
Try your own numbers in our calculator to see the added revenue DGIS can generate for you.

---