Week of July 11th, 2022
Linking supply chain news with dangerous goods compliance
The future of the supply chain is intertwined with the evolution of technology. And technology innovations and continue to emerge across all areas of the supply chain.
Let's examine some recent industry news.
---
SUPPLY CHAIN NEWS
Innovators Continue to Shape the Last Mile. What's Next?: The pandemic and rise of e-commerce brought new technology innovations to minimize the burden on the supply chain, especially in the last mile. Here's a look at the technologies logistics startups have developed to transform the last mile.
---
OUR PERSPECTIVE
Technology drives the supply chain forward. To truly be a modern business, organizations must embrace digital technologies. But in order to drive (and maintain) meaningful efficiencies, those systems must be integrated. This not only helps automate the end-to-end supply chain, but integrating compliance into other systems processes helps ensure all DG shipments adhere to the latest regulations without having to be handled using different systems and processes and showing down operations.
Investments needed in compliance. While attention (and budget) is often given to newer advancements like AI and blockchain or the larger, established tools like WMS, TMS and ERP, organizations cannot overlook compliance. Unfortunately, the 2021 Global DG Confidence Outlook found that only 25% of DG pros surveyed believe their company's current infrastructure is equipped to meet future needs, and less than 20% believe existing tech at their company supports future DG needs.
Compliance issues affect the entire supply chain. Recent supply chain disruptions have reinforced just how connected supply chains are and delays and other issues can have a ripple effect downstream. And while it may be overlooked or unnoticed by many employees and organizations, compliance plays a role in nearly every aspect of the supply chain and can have a significant impact on a company's ability to maintain an efficient and cost-effective supply chain.
Operational and financial efficiencies gained through other technologies can be lost if your shipments are stopped for noncompliant labels, packaging or documentation and then received fines from regulatory bodies, carriers or customers.
To learn more about Dangerous Goods software or how to establish a safer, more compliant supply chain, visit https://www.labelmaster.com.
Have questions about Dangerous Goods transport? Call the Labelmaster Regulatory Hotline at 1.800.621.5808.
---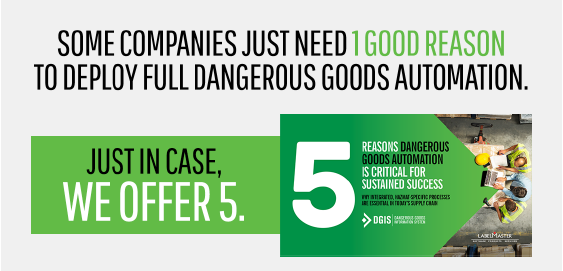 Automation is the key to handling today's supply chain challenges. But without true Dangerous Goods automation, you may be operating at a competitive disadvantage.
Integrating Labelmaster's DGIS with your existing TMS, ERP, WMS or OMS platforms puts Dangerous Goods information in the same window as all your other shipping information. Hazmat shipments become as simple as non-regulated shipments—a seamless part of your normal workflows.
Our new eBook explains how integrating DGIS with your existing automation platforms can help your organization sustain success in today's supply chain.


---