Week of May 30, 2022
Linking supply chain news with dangerous goods compliance
Inflation, surging diesel prices, high shipping costs and more are impacting businesses around the world, including those shipping dangerous goods.
Let's examine some recent industry news.
---
SUPPLY CHAIN NEWS
---
OUR PERSPECTIVE
Noncompliance can be costly. Costs resulting from noncompliance can add up – from fees related to stopped shipments and carrier fines to increased insurance liability following an accident. Small errors in labeling and documentation often result in civil penalties which, if repeated, can add up to significant losses, while other violations carry stiffer penalties – up to $84,485 for certain violations of U.S. hazardous materials transportation.
Compliance is more than avoiding fines. Better compliance processes not only help avoid fines, but it also helps organizations maintain lean and efficient operations. Access to important master data and regulatory information can help organizations identify cost-effective solutions to ensure they're not spending more than necessary on packaging or protection of goods, while still maintaining compliance.
Compliance is more than a cost center. Compliance plays a role in every part of the supply chain and must be considered as businesses make changes to their operations to reduce costs, drive efficiencies, meet customer demands and more. Automating DG shipment compliance and validation can help establish repeatable and reliable processes across the supply chain and drive a positive financial and operational impact.
How has your organization navigated the supply chain challenges over the last year and what areas of your compliance operations need to address moving forward?
We want your input! Please take a few minutes to add your voice to the 7th annual DG Global Confidence Outlook! Your responses are anonymous, and we'll share the results later this year.
---
To learn more about Dangerous Goods software or how to establish a safer, more compliant supply chain, visit https://www.labelmaster.com.
Have questions about Dangerous Goods transport? Call the Labelmaster Regulatory Hotline at 1.800.621.5808.
---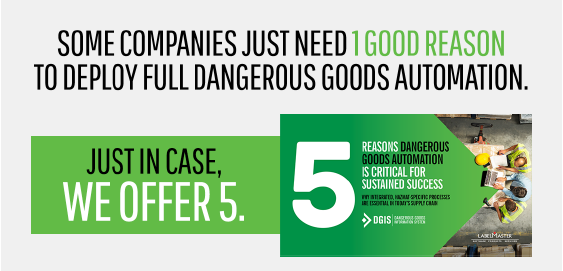 Automation is the key to handling today's supply chain challenges. But without true Dangerous Goods automation, you may be operating at a competitive disadvantage.
Integrating Labelmaster's DGIS with your existing TMS, ERP, WMS or OMS platforms puts Dangerous Goods information in the same window as all your other shipping information. Hazmat shipments become as simple as non-regulated shipments—a seamless part of your normal workflows.
Our new eBook explains how integrating DGIS with your existing automation platforms can help your organization sustain success in today's supply chain.


---