Week of November 28th, 2022
Linking supply chain news with dangerous goods compliance
Uncertainty around the supply chain remains a stressor for companies in almost every industry. From retail and pharma to commercial printers and tech companies, everyone is looking for ways to keep the supply chain moving.      
Let's examine some recent industry news.
---
SUPPLY CHAIN NEWS
---
OUR PERSPECTIVE
Avoiding self-created disruptions. The first step in avoiding supply chain disruptions is to not cause any. While businesses can't control rail strikes, labor shortages or capacity constraints, they can avoid snags due to slow DG management processes or compliance errors – often the result of using manual DG processes.  
Automation is key. Automating and standardizing DG shipping processes supports smooth and efficient operations along with supply chain resilience and business continuity — across locations and departments. This helps companies (in any industry) operate more efficiently and compliantly, not just when things are going well, but when disruptions arise.  
Confidently ship hazmat. With so much uncertainty around the supply chain heading into 2023, companies can better position themselves for success by investing in their DG management operations to ensure every shipment – even if they expand product lines, shift transportation modes or begin shipping from new locations – is shipped safely, compliantly and efficiently.   
To learn more about Dangerous Goods software or how to establish a safer, more compliant supply chain, visit https://www.labelmaster.com.
Have questions about Dangerous Goods transport? Call the Labelmaster Regulatory Hotline at 1.800.621.5808.
---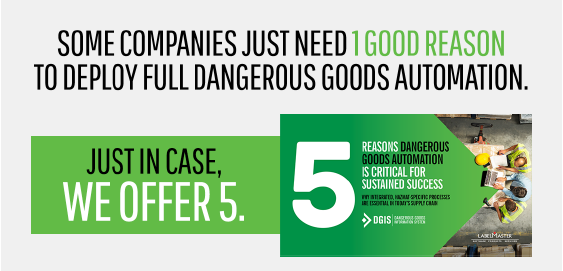 Automation is the key to handling today's supply chain challenges. But without true Dangerous Goods automation, you may be operating at a competitive disadvantage.
Integrating Labelmaster's DGIS with your existing TMS, ERP, WMS or OMS platforms puts Dangerous Goods information in the same window as all your other shipping information. Hazmat shipments become as simple as non-regulated shipments—a seamless part of your normal workflows.
Our new eBook explains how integrating DGIS with your existing automation platforms can help your organization sustain success in today's supply chain.


---