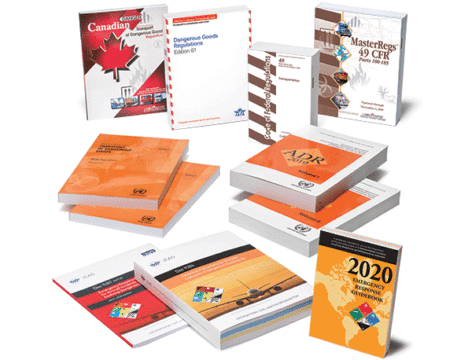 Don't look now, but it's almost fall, and it will be 2020 before you know it. That means new Dangerous Goods regulations will soon be coming into force—and you'll need new regulatory publications to keep track of them.
Of course, sometimes it's hard just keeping track of the latest Dangerous Goods regulatory publications themselves. That's why we created this exclusive, downloadable guide: 2019/2020 Regulatory Books Made Simple.
Here's a little more information about the publications every professional hazmat shipping operation must have on hand, in order of release:
The industry standard for shipping Dangerous Goods by air, recognized by airlines worldwide. Who needs it: Any business that ships any kind of Dangerous Goods by air, from anywhere in the world to anywhere else in the world.
Fun fact: Our online IATA DGR training course is one of our most popular, and it comes with a handy study guide.
When it's available: September 2019. Pre-order it today.
This Labelmaster exclusive helps you stay compliant with new rules adopted between the government's annual CFR printings. How much can PHMSA regulations change year to year? Plenty.
Who needs it: Any business that ships any kind of Dangerous Goods in the United States, whether originating here or elsewhere.
Fun fact: The Early CFR features a UN four-digit cross-reference table and an easy-to-read Hazardous Materials Table you won't find anywhere else (except in our MasterRegs publication—see below).
When it's available: November 2019. Pre-order yours today.
Another Labelmaster exclusive—a reader-friendly version of the U.S. DOT's 49 CFR Parts 100–185 that includes an easy-to-read Hazardous Materials Table, samples of compliance shipping papers and much more.
Who needs it: MasterRegs is the perfect publication for businesses that don't have a team of hazmat pros who know the 49 CFR inside and out. This convenient, inexpensive guide saves you time with every shipment.
Fun fact: This book contains a portrait layout of the Hazmat Table, which helps you quickly and logically locate chemical transport information.
When it's available: December 2019. Pre-order yours today.
[Which regulatory book is the easiest to use? Which is the hardest? Let us know in the comment box below.]
Every vehicle transporting hazardous materials is required to carry emergency response information appropriate to those materials being transported—and a copy of the "ERG" is the most efficient way to meet that requirement. The new edition reflects all relevant regulatory changes since 2016.
Who needs it: If your business involves Dangerous Goods, every one of your front-line stakeholders should have a copy of the ERG—and know how to use it.
Fun fact: We're currently offering the ERG for pre-order at our lowest prices ever.
When it's available: Spring 2020. Pre-order yours today.
More Dangerous Goods regulatory publications
While you're stocking your shelves (or desktops) with these essential new publications, make sure you're current on these other resources—which won't have new editions until next year, at the earliest:
Questions about which publications your operation needs most? Call us at 800.621.5808 or contact Labelmaster online.
Labelmaster is a full-service provider of goods and services for hazardous materials and Dangerous Goods professionals, shippers, transport operators and EH&S providers. See our full line of solutions at labelmaster.com.