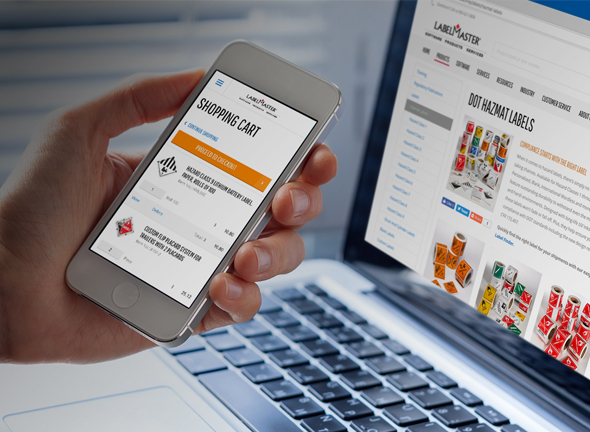 Have you visited Labelmaster.com lately?
We've recently given the entire website a thorough renovation to make it easier for Dangerous Goods shippers like you to find what you need. Easier to order. Easier to keep your entire shipping operation compliant.
And, if we do say so ourselves, easier on the eyes.
Here's why you'll love the new Labelmaster.com:
The new home page. It's better-looking, sure, but the real benefit is how easily you can get to the resources you need. Placard Finder? One click. Hazmat training courses? One click. GSA Schedule contract resources? One click.
Fully responsive design. You can now browse Labelmaster.com from your desktop, tablet or phone with the same first-rate experience. If you ever need to re-order Obexion Max lithium battery packaging while you're at your daughter's volleyball game, you can do it without missing a point.
Enhanced search capabilities let you find any product using the search bar at the top of the home page. Need Class 4 Dangerous When Wet labels? Just type in "dangerous wet" and zoom to the full selection.
The new "wish list" feature lets you save products for purchase at a later date. Don't you just hate it when you forget the exact Limited Quantity label your Greensboro distribution center needs and have to call that guy? Now, that won't happen anymore.
The new shopping list feature lets you switch between two orders without losing the details of either one. So while you're waiting for your Tehachapi facility to get back to you about lithium battery training, you can switch over and order Spacemaster placarding systems for Tonapah.
Your full online order history can now be easily viewed for future reference, because you may not remember exactly which 4GV UN-certified packaging you need for shipping latex paint to Winnipeg.
Online invoice payment. 'Bout time, right?
Shipping address search. Have a bunch of shipping addresses stored? This feature makes it easier to find the address you need, speeding up your checkout page load.
Product page pricing. For greater pricing transparency and overall headache reduction, we've added a "Price Per Item" column in the product page quantity break pricing table for some of our most popular product categories. So now you'll know exactly how much one lithium battery mark costs.
You can now find your account number on your My Account page. And there was much rejoicing.
A new headline font. Design critic Stewart D.O. North says "Pathway Gothic One is a brave, unconventional choice that I wholeheartedly endorse. It regards the site visitor as intelligent and independent, and practically demands that you read it and strive to make your goals a reality."
Uh, okay, Stu. We'd love to hear how the world's hazmat shippers like our newly renovated website. Leave a comment below and let us know what you think!
---
Labelmaster is a full-service provider of goods and services for hazardous materials and Dangerous Goods professionals, shippers, transport operators and EH&S providers. See our full line of solutions at labelmaster.com.