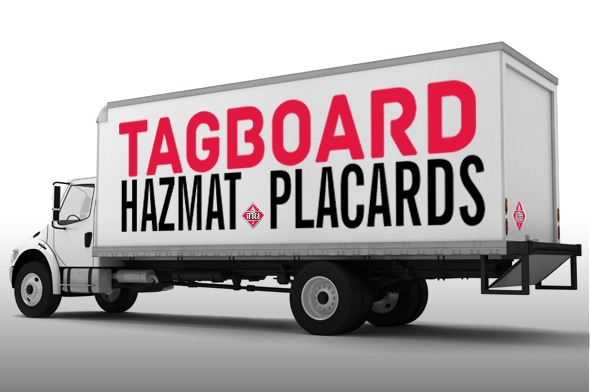 Lightweight, durable tagboard hazmat placards keep Dangerous Goods shipments compliant at a fraction of the cost of permanent vinyl placards. With Labelmaster's huge selection of tagboard placards now sharply discounted (for a limited time only), we've been getting lots of good questions about them. (Also some weird ones, but we're used to that.)
Here are the most frequently asked questions and the answers every hazmat shipper should know.
What's a tagboard hazmat placard?
Tagboard is a sturdy, long-lasting cardboard that's ideal for economical, heavy-duty hazmat placards. Our placards are printed on strong 80 kg/176 lb. tagboard with fade-resistant UV inks, and protected by a tough polycoating for exceptional resistance to buckling and blowouts in rain, snow, sleet and humid conditions.
Are tagboard placards compliant with PHMSA regulations?
Yes! Labelmaster tagboard placards meet exactly the same compliance standards as our permanent vinyl placards.
But they cost a lot less?
Tagboard placards are typically less than half the cost of permanent placards. And for a limited time, Labelmaster is offering a huge selection at 15%–65% off our already low prices.
Define "huge."
We offer dozens of 4-digit tagboard placards across almost every hazard class, plus worded placards, blank placards and international wordless placards. Our tagboard placards cover more than 90% of typical hazmat ground shipments.
When would my operation use tagboard instead of permanent?
Tagboard placards are perfect for:
Temporary use
Short hauls
Indoor storage
Emergency replacements
So tagboard placards are kind of like dating instead of marriage?
Well, that's not the analogy we use. We recommend tagboard placards for materials you may not ship very often, and permanent placards for materials you ship regularly.
Right—permanent placards for a long-term relationship, and tagboard placards for the occasional fling.
We'd suggest you seek a healthier balance between your professional and personal life. Are there any more actual questions about tagboard placards?
Do tagboard placards work with Slidemaster placarding systems?
Thank you! And yes, tagboard placards work perfectly with Slidemaster placarding systems.
Can I create my own placards with blank tagboard placards?
Absolutely! You can easily customize tagboard placards with Labelmaster placard numbering kits.
Will I get a bigger discount if I order larger quantities of tagboard placards?
Yes! The more packages you buy, the more you'll save:
How many tagboard placards come in each package?
25.
Will anyone at the Dangerous Goods Symposium be speaking about tagboard placards?
Unfortunately, no. But the Dangerous Goods Symposium is still a can't-miss event for anyone in the business of shipping hazmat. You can talk with other folks in the industry about tagboard placards, or ask a Labelmaster expert at the placarding table during Labelmaster Fest.
You'll also hear the latest updates and analysis of new regulations, network with top trainers, experts and regulators, and enjoy Chicago's beautiful lakefront. Don't miss it!
When is the Dangerous Goods Symposium?
September 6–8, 2017, in Chicago. Register now, before that weirdo asks more questions about relationships.
Will my permanent placards get jealous if I bring in tagboard placards?
Too late.
---
Labelmaster is a full-service provider of goods and services for hazardous materials and Dangerous Goods professionals, shippers, transport operators and EH&S providers. See our full line of solutions at labelmaster.com.