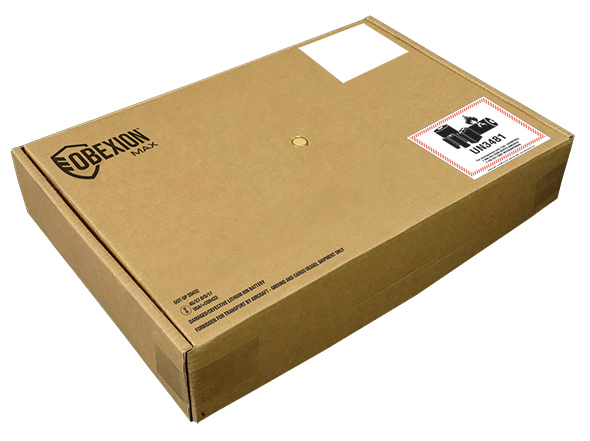 If your business ever ships damaged, defective or recalled lithium-ion batteries—or devices that contain them—you need a thorough knowledge of section 173.185 of the 49th volume of the Code of Federal Regulations.
Ha! Just kidding! You really only need to know one word: Obexion.
Here's why: In addition to its revolutionary, fire-mitigating fiberboard material, every Obexion Max package comes with U.S. Department of Transportation Special Permit 20432 granting relief from many provisions of 49 CFR 173.185.
Here are some of the ways these special permits make your life easier when you're shipping lithium-ion batteries and battery devices.
What are special permits, and how do they work?
Feel free to skip this part if you're an experienced hazmat professional. If, on the other hand, your job just happens to involve occasionally shipping stuff that happens to be hazmat, you should definitely read it.
Lithium batteries, as you probably know, are classified as hazardous materials (a.k.a. hazmat) because they very occasionally burst into flame, especially when damaged or defective. And anything that's hazmat needs to be shipped under strict regulations to protect public safety.
Special permits are a legal way to stay compliant while avoiding some of those regulatory burdens. The Pipeline and Hazardous Materials Safety Administration (PHMSA) website says:
Special permits authorize a person to perform a function outside of PHMSA regulations or to not perform a function currently required under the PHMSA regulations.
One case in which the DOT issues a special permit is when a business demonstrates that a certain product, in certain circumstances, exceeds the provisions of the hazardous materials regulations.
The DOT issued Special Permit 20432 to Obexion Max because its advanced fiberboard design mitigates the spread of thermal runaway in a lithium battery fire.
We now return you to your regularly scheduled blog post: "The advantages of the Obexion Max special permit."
Use of simple fiberboard packaging
Due to the dangers present with damaged lithium-ion batteries and battery devices, these products usually must be shipped in elaborate packaging involving gel packs, glass pellets, heavy liners, or the always popular sleeve-in-a-box-in-a-box-in-holy-crap-another-box—all requiring a metal, wooden or other specialty outer carton.
But Special Permit 20432 lets you ship your damaged, defective or recalled devices in Obexion's simple fiberboard packaging with easy-to-follow closure instructions.
Not only does this save you time and headaches, but the lighter-weight packages save you shipping fees, too.
Excepted shipments vs. fully regulated
Usually, lithium-ion batteries and devices need to be transported as fully regulated Class 9 shipments, complete with snazzy Class 9 labels and (with most carriers) a significant hazmat surcharge.
But Special Permit 20432 authorizes small lithium-ion cells and batteries, as well as devices containing them, to be transported as Excepted (not fully regulated) shipments. That saves you money and makes package labeling simpler.
Even better—an Excepted shipment also allows multiple batteries and/or devices to be shipped in a single package. That's why Obexion Max comes in pre-assembled configurations for 10 mobile phones and 20 lithium-ion batteries. Think about that the next time you wake up sweating from that recurring recall nightmare.
No special training required
Shipping fully regulated hazmat requires specific training for every employee in the process. In fact, Labelmaster offers two excellent online training modules specifically for shipping lithium batteries and battery-powered devices.
But with Obexion Max, you don't need either of them, because Special Permit 20432 eliminates the need for limited hazardous materials training.
So you save money on hazmat training for your own people. But think about end users! Obexion Max is perfect for helping these untrained shippers return defective batteries or devices to manufacturers or retailers.
In fact, Special Permit 20432 makes Obexion Max perfect for shipping lithium batteries and battery-powered devices in any situation. Get complete details about the full Obexion packaging line at labelmaster.com/Obexion or call 800.621.5808.
---
Labelmaster is a full-service provider of goods and services for hazardous materials and Dangerous Goods professionals, shippers, transport operators and EH&S providers. See our full line of solutions at labelmaster.com.