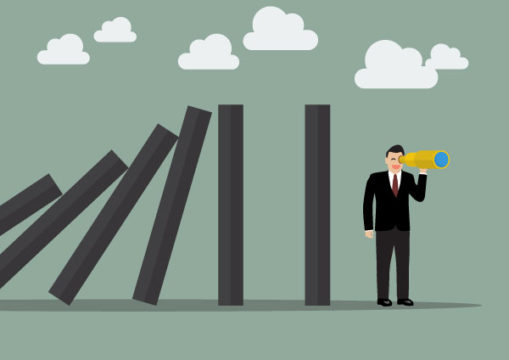 Used to be, when Dangerous Goods pros heard from a lawyer, it could only mean one thing: bad news. Something went seriously wrong with a hazmat shipment.
That mindset is changing. Will Troutman and Jim Shimko are trying to change it even faster.
Troutman is a Partner with the Los Angeles office of the law firm Norton Rose Fulbright US LLP, where he is the co-editor of the Consumer Products Law Blog. Shimko is Senior Manager with Labelmaster Services. Together, they recently delivered a webinar entitled What Do You Mean I'm Shipping Hazmat? that gave lawyers a 101-level introduction to the world of Dangerous Goods shipping.
Their goal: to help in-house legal teams make their involvement with the hazmat supply chain more pro-active than reactive—to prevent problems instead of responding to them. Here's why e-commerce shippers (and other organizations relatively new to shipping Dangerous Goods) are paying attention.
Supply chain changes can create a big miss
"For many smaller or newer retailers," says Troutman, "hazmat isn't on their radars as an area of risk."
Shimko concurs. "I was meeting with an R&D team recently who didn't realize the laptops right in front of them were hazmat. A lot of legal teams are aware of health and safety laws and environmental issues, but they're not as aware of hazmat transport laws and what can be regulated as hazmat until something happens and they have to deal with it."
The lack of awareness isn't limited to new or small retailers, however. Along with the rise of e-commerce, Troutman points to increases in direct sourcing and private labeling as factors that have led to more organizations lacking the necessary Dangerous Goods knowledge.
"You can imagine a scenario where a retailer moves from a small percentage of inventory being directly sourced to a much broader direct source product mix using a just-in-time replenishment model," he says. "It wouldn't surprise me to see an update for logistics from port-to-distribution center, but a big miss on hazmat processes from distribution center-to-store when those shipments get broken into smaller shipments for local delivery."
Establish your current state—and target the future
During the webinar, Troutman says the lawyer's goal should be to establish the current state of the operation and target a more proactive future state. That process starts with getting answers to some fairly basic questions about the current state:
What products do you ship, and how are they assessed?
Where are they shipped?
Who is responsible for compliance, and what happens when personnel changes?
What are the existing policies and procedures—formal and informal? How (and how often) are they updated?
Is there a budget? Is it adequate? If not, can you get more, or do you need to triage?
How are records kept?
Is there a history of non-compliance, and how have problems been addressed?
Who is trained, how often and by whom?
Getting to the future state—where the legal team can take a more proactive approach—requires collaboration to:
Prioritize fixes or enhancements to the existing approach, including the identification of high-risk products and jurisdictions
Standardize policies and procedures
Establish a process for getting and communicating timely, updated requirements and compliance information with relevant stakeholders
Standardize recordkeeping
Track non-compliance
Establish a periodic review of the product mix and a process for getting advance notice of new product areas
Conduct a periodic audit of the entire process
That seems like a long list, but each line can make an enormous difference. Troutman points to recordkeeping, for example. "If you standardize the process for evaluating an incident or a problem into a one-page record that shows the root cause analysis of how you identified, investigated and resolved the issue, you'll probably be an 'A student' with regulators, giving you the benefit of the doubt.
"If records of your compliance approach consist of thousands of pages of emails, regulators have to dig through that and you'll be an 'F student.' Not to mention that people tend to say things via email that sound terrible out of context."
Lawyers need to initiate the conversation
Avoiding and managing risk is a full-time job for in-house counsel. That's why Troutman says lawyers need to initiate the conversation with a company's DG team—and vice versa.
"How you initiate the conversation depends on your company's culture," he says. "Some lawyers are tasked with developing objectives as part of continuous improvement projects. If they identify hazmat as an area of risk, they can build a use case for a more formal meeting. Others only get momentum behind them if they've identified a specific problem. At that point, they can take a command-and-control approach."
"Of course, if you're already connected with that department, you can just walk in there and talk to those people."
Shimko says, "In my experience doing compliance assessments, you might have some silos in that  first meeting, and everyone's afraid, 'I'm gonna get blamed for this.'"
"When you get them all in a room, there might be some defensiveness at first," Troutman agrees. "But in the end there's relief."
Want to make Dangerous Goods compliance a collaboration throughout your organization? Connect with Labelmaster Services to learn how!
Labelmaster is a full-service provider of goods and services for hazardous materials and Dangerous Goods professionals, shippers, transport operators and EH&S providers. See our full line of solutions at labelmaster.com.