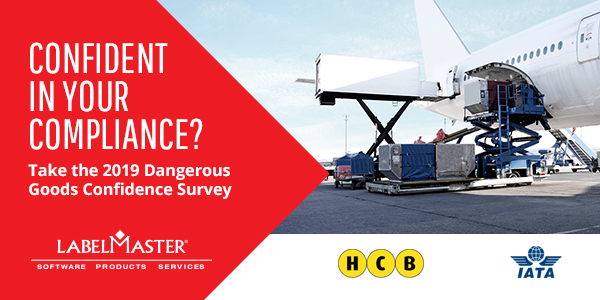 Labelmaster, Hazardous Cargo Bulletin (HCB) and IATA invite you to participate in the world's most comprehensive survey of hazmat professionals.
The revealed results of the annual Dangerous Goods Confidence Outlook have become a tradition at the Dangerous Goods Symposium. A few insights usually take the crowd by surprise, and you hear reactions like:
I've always thought that, but now I realize more than half the world agrees with me!
That idea has gotten a lot more popular in the last few years—I wonder why?
Europeans (or Americans) are way ahead of us on this issue!
You can be a part of this phenomenon by adding your voice to the 2019 survey! You'll answer questions about how you keep up with changing hazmat regulations, how current your DG shipping technology is, and how well you believe hazmat regulations promote a safer supply chain.
Share your opinions about these issues—and many others—with the entire DG community! Take a few minutes to take the 2019 Dangerous Goods Confidence Outlook.
A global partnership for Dangerous Goods insight
Labelmaster, HCB and IATA share a passion for making DG compliance the highest possible priority. Why? Because the world's economies depend on hazardous materials reaching their destinations safely.
We need to know how confident you are in your abilities to ship hazmat safely, compliantly and efficiently—and how can that confidence level be improved?
That's why we need your opinions! All answers will be kept anonymous, and you will not be contacted by Labelmaster, HCB or IATA for any selling purposes.
Take the 2019 Dangerous Goods Confidence Outlook survey today!
Labelmaster is a full-service provider of goods and services for hazardous materials and Dangerous Goods professionals, shippers, transport operators and EH&S providers. See our full line of solutions at labelmaster.com.