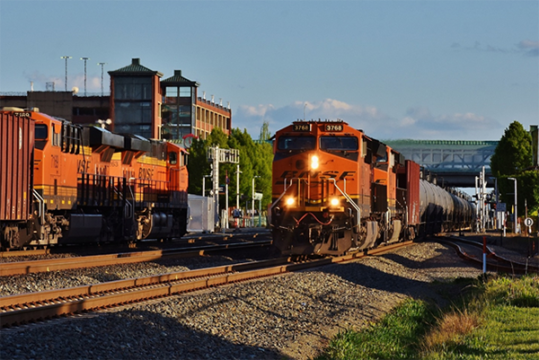 The first full week of November is wrapping up with the release of OSHA's long awaited Interim Final Rule in reference to COVID vaccine and/or testing mandates in the workplace. The measure is not without controversy. However, here we'll only cover the rule's contents. People doubtless have their own opinions in reference to the rule. However, the politics involved are not within the purview of this blog. We'll also cover other actions taken this busy week, including a proposed reversal of a recent rule by PHMSA that had allowed LNG transport by rail. Here's the latest news:
PHMSA
The agency proposes to amend the Hazardous Materials Regulations to suspend authorization of liquefied natural gas (LNG) transportation in rail tank cars pursuant to a final rule published in July 2020, pending the earlier of either completion of a separate rulemaking under RIN 2137–AF54 evaluating potential modifications to requirements governing rail tank car transportation of LNG, or June 30, 2024. See the rule here.
IATA
The association placed the "Significant Changes to the 63rd Edition of the DGR" document on its website in a public area. Previously the document was behind a (no cost) registration wall. Here's the public address.
OSHA
As noted above, OSHA published the rule directed by the Biden Administration over the summer to create a mandated COVD vaccination or testing program for many American workplaces. The agency is issuing an emergency temporary standard (ETS) that it states is to protect unvaccinated employees of large employers (100 or more employees) from the risk of contracting COVID–19 by strongly encouraging vaccination.
Covered employers must develop, implement, and enforce a mandatory COVID–19 vaccination policy, with an exception for employers that instead adopt a policy requiring employees to either get vaccinated or elect to undergo regular COVID–19 testing and wear a face covering at work in lieu of vaccination. The rule is effective as of November 5, 2021. It would require either proof of vaccination or else participation on weekly testing no later than January 4th, 2022.
Its scope is as follows:
The rule covers all employers with a total of 100 or more employees at any time it is in effect.
(2) The requirements of the rule do not apply to:
(i) Workplaces covered under the Safer Federal Workforce Task Force COVID–19 Workplace Safety: Guidance for Federal Contractors and Subcontractors
(ii) Settings where any employee provides healthcare services or healthcare support services when subject to the requirements of §1910.502.
(3) The requirements of the rule do not apply to the employees of covered employers:
(i) Who do not report to a workplace where other individuals such as coworkers or customers are present
(ii) While working from home
(iii) Who work exclusively outdoors.
In brief, the rule requires employers to ascertain vaccination status of each employee covered; verify the same; ensure that employees not vaccinated participate in a required weekly testing program for COVID infection and maintain relevant records of the above. The rule also mandates employers provide adequate support to employees seeking vaccination in terms of time off to do so, etc.
At press time (Monday morning, November 8th), a three-judge subpanel of the 5th US Circuit Court of Appeals based in New Orleans has placed a temporary injunction stopping the rule's implementation in response to a petition from the Attorney General of the State of Louisiana. This occurred on Saturday the 6th. More than two dozen state attorneys general have announced that they intend to litigate against the mandate in federal court in one way or another. How long the current temporary injunction may last and what outcome all those various actions may engender will all play out over the coming days. We'll keep track of the rule's status in this column as best we can. See the full rule here.
FMCSA
The agency announced a public meeting of its Safety Advisory Committee on December 6th and 7th. The committee assists the agency in developing regulatory actions to improve carrier safety. See the schedule and how to participate here.
CPSC
The commission announced that it has submitted a request for extension of approval for an information collection on a proposed survey to assess how hazard warnings are communicated to consumers. On July 26, 2021, the CPSC published a notice in the Federal Register announcing the agency's intent to seek approval of this collection of information. The Commission received no comments. Therefore, by publication of this notice, it announces that CPSC has submitted to the OMB a request for extension of approval of this collection of information, without change. Submit written or electronic comments on the collection of information by December 8, 2021. See the details here.
Labelmaster is a full-service provider of products, shipping and training software, and professional consulting services to assist the DG and HS&E professional to comply with national and international regulations. See our full line of solutions at www.labelmaster.com