As 2019 quickly approaches, lithium battery shippers need to be aware of the mandatory label changes that become effective on January 1st. For almost 2 years shippers of small (excepted) batteries and battery-powered devices have had the option to use either the lithium battery handling "Caution" label or the lithium battery mark while operating under the transition period that has been allowed within the International and Domestic regulations. On January 1st the lithium battery mark becomes mandatory and the handling label becomes obsolete.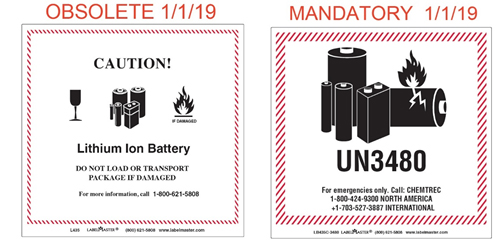 Instead of displaying "Lithium Ion Battery" or "Lithium Metal Battery" the new marks display the specific UN number(s) associated with the battery shipment (i.e, UN3480, UN3481, UN3090, and UN3091). Displaying the UN number(s) easily identifies whether or not the package contains standalone batteries, or batteries contained in/packed with equipment. A telephone number is also required, and no additional statements are allowed to be displayed on the mark in accordance with the regulations. Depending on carrier requirements/policies additional information may be required to appear on the package that cannot be displayed on the mark. Labelmaster offers a "tab" version of the lithium battery mark to easily meet these requirements, where the tab attached below the mark has space to provide additional information such as ICAO/IATA Section II Packing Instruction numbers, proper shipping names, handling instructions, etc.).
2019 also brings a mandatory change for fully regulated battery shipments. Similar to the handling label/mark changes, shippers have had the option to use either the new lithium battery Class 9 Hazard Class label or the standard Class 9 miscellaneous label during the current 2-year transition period. Beginning January 1st all fully regulated lithium battery shipments will be required to display the new lithium battery Class 9 label.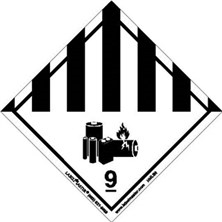 If you or your company ship lithium batteries or battery-powered devices you'll want to transition your inventory of labels now and begin training your employees to ensure that you are in compliance on or before January 1, 2019!
Do you have difficulty classifying your lithium battery or battery-powered device shipments? Labelmaster's Lithium Battery Advisor simplifies the complexities of shipping lithium batteries by air, ground, rail or international maritime. Just answer a few questions — such as What type of lithium battery are you shipping? or Is the battery contained in equipment? — and the Lithium Battery Advisor produces a shipping guidance document that contains general instructions, the required packaging and labels, sample shipping documentation, and labeling and marking diagrams. You get the information you need to transport your shipment safely, compliantly and on schedule—plus the confidence of using the industry's most accurate and comprehensive software.
---
Labelmaster is a full service provider of goods and services for the Hazardous Materials and Dangerous Goods professional, shippers, transport operators, and EH&S providers. See our full line of solutions at www.labelmaster.com or call and speak with our customer service staff at (800) 621-5808. Regulatory questions can be directed to Regs@labelmaster.com.