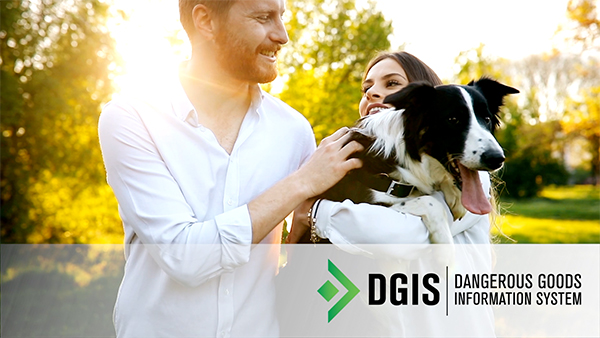 Ever wish you could take a pill that would instantly help you feel better about your hazmat shipping operation—and life in general?
Unfortunately, there's no such pill. But there is DGIS.
Our DGIS solution—a.k.a. Dangerous Goods Information System—can relieve the acute anxiety you may feel about your company's hazmat processes. If you're depressed about outdated technology, slow documentation or delayed shipments, it can help address that, too.
In fact, DGIS can help with so many Dangerous Goods-related "symptoms" it's almost like one of those new drugs you see advertised on TV. And that got us to thinking … well, see below.
Use DGIS regularly!
Because DGIS can help you feel better about your hazmat shipping operation, we decided it needed the whole "drug commercial" treatment. Here's what we came up with.
Best of all, unlike the latest miracle drug, all the side effects of using DGIS are actually good for your business.
You'll love the results when you use DGIS regularly!
Backing up the claims
Okay, DGIS isn't a miracle drug for your operation. But all the claims in the video are true, and we're prepared to back them up with evidence. DGIS can …
Help you avoid the discomfort of manually researching DG regulations. DGIS stores all the details of every item you ship, so you never have to do manual research.
Accelerate hazmat shipment processing. DGIS accesses that data to pre-populate all 14 fields on your Dangerous Goods declarations. Watch how fast it works.
Validate every shipment against the latest regulations from the 49 CFR, IATA DGR and IMDG Code. It even shows you where every label and mark need to be placed on your packages, so you can be completely confident in your compliance.
Integrate with leading enterprise and shipping platforms. You can integrate DGIS with the TMS, WMS or ERP you already use, so hazmat processing happens on the same screen, in the same workflow.
Eliminate the pain of stopped shipments and civil penalties. When your documentation, labeling and marking are accurate and compliant, you don't have to worry about carriers or inspectors slowing down your shipments.
Help raise revenues and profitability to healthier levels. Faster, more accurate processing means you can boost revenues by shipping more hazmat in the same amount of time—and eliminates costly compliance failures.
DGIS is the technology upgrade your company needs to drive more revenue and be more profitable. And you don't even need a prescription to use it!
Reduce anxiety for about two dollars a day
We had a lot of fun with this video, but all joking aside, we know it's not uncommon for supply chain pros to experience anxiety about their hazmat operations. In our most recent Global Dangerous Goods Confidence Outlook, 82% of Dangerous Goods professionals said their organization's DG investment could not support future regulations or supply chain changes.
When your technology lags, losing business to your competition is a very real fear. Yet changing DG processes can be difficult. No wonder hazmat pros have anxiety!
We make it easy to upgrade your processes with DGIS. It requires no installation, and we offer personalized support and templates that will have you up and running in less than an hour. Our experts can even help you champion DGIS within your organization. And a DGIS license costs as little as $2.19 a day.
Ready to see how regular use of DGIS can reduce your hazmat-related anxiety and help make your life easier? Take a closer look at all the capabilities DGIS offers—or schedule a demo—today!


Make sure your shipments are safe and in complete compliance with a full line of solutions from Labelmaster—a full-service provider of goods and services for hazardous materials and Dangerous Goods professionals, shippers, transport operators and EH&S providers.