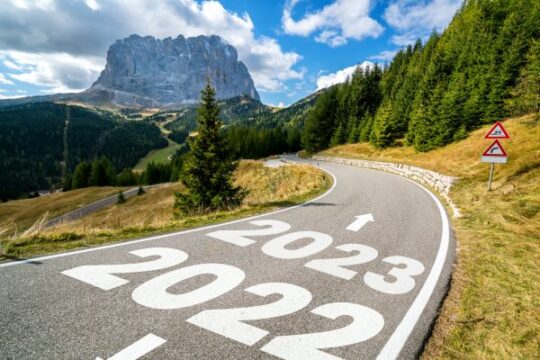 Was 2022 a return to normal in the Dangerous Goods galaxy?
By one measure, the answer is yes. For the first time since the global pandemic started in March 2020, a full year passed without any significant hazmat regulations relating to COVID-19. The world's regulatory bodies have largely returned to their standard order of business—setting and modifying Dangerous Goods regulations to balance the needs of industry and public safety.
Some of those updates—as reported in our weekly DG Digest—were significant, especially for organizations that ship hazmat within, into or out of the United States. Here's a look back at the big regulatory news of 2022, and a preview of 2023.
2022's biggest stories in Dangerous Goods regulation
USPS Publication 52 updates
The United States Postal Service made two significant announcements in June. The first, effective immediately, introduced a new rule placing further restrictions on how USPS accepts and transports lithium battery devices:
Pre-owned (i.e., used), damaged, and/or defective electronic devices could no longer be mailed by air, whether they contain or are packaged with lithium batteries. They may only be mailed via surface transportation.
All such packages must be marked "Restricted Electronic Device" and "Surface Transportation Only," in addition to all other required marks and/or labels.
The second major rule change to Publication 52 went into effect December 1. This new rule requires mailers to separate, into identifiable containers, all hazardous from other mail upon tendering.
HM-215P Harmonization
In July, PHMSA officially adopted international harmonization final rule HM-215P, bringing many rules in the 49 CFR into alignment with regulations previously implemented by ICAO, IMO and the United Nations. (They even produced a brief webinar summarizing the changes.)
The most significant features of HM215P include:
Revisions to the Hazardous Materials Table, featuring expanded treatment of Dangerous Goods in Articles
New exceptions for lithium batteries in service for transport equipment
Revisions to stowage requirements for many types of lithium batteries
A stipulation that the Limited Quantities label may not be folded over any sides of a package
Of course, harmonization never sleeps. Stay tuned for HM-215Q, scheduled for some time in 2023 (see below).
2023 preview: New hazmat regulations in the pipeline
Competency-Based Training and Assessment
On January 1, 2023, new IATA provisions will come into effect that mandate a competency-based training and assessment (CBTA) approach for Dangerous Goods training. This new framework concentrates on people's actual functions and responsibilities rather than their job titles, and on assessed competence rather than simply the completion of courses.
U.S. ground shippers are not yet impacted by this change, and it may not have a strong impact on many organizations' training protocols for some time. Canadian operations, however, do have to institute CBTA, as it's also going into effect under the TDGR.
Removal of phone numbers from the lithium battery mark
Starting January 1, IATA, IMO and ADR will no longer require that lithium battery handling marks have a telephone number for providing incident-related information. A transition period will allow the existing mark to continue to be used until December 31, 2026.
HM-215Q harmonization
At some point in 2023—maybe—we may see a preliminary rule HM-215Q from PHMSA, the latest in a never-ending list of harmonizations between the U.S. and the rest of the world. It will issue first as a proposal; however, to date, no firm timeline nor specific indication of contents has been promulgated
Questions about any of these hazmat regulatory updates?
As always, if you ever have any questions about these (or other) Dangerous Goods regulations and how they apply to your shipments, please contact the Labelmaster hazmat hotline by email (regs@labelmaster.com) or phone (1.800.621.5808).
Our experts are available 8 a.m. to 5 p.m., Central time, Monday through Friday, and there's almost no question too simple or too complicated for them to answer. (Please note that Labelmaster cannot provide specific regulatory guidance or judgments of compliance or not pertaining to specific shipper consignments. That duty is the legal province of the shipper and Labelmaster's Regulatory staff lacks the legal authority to insert itself directly into consignment preparation.)
Here's to a happy, healthy, safe and compliant holiday season—from everyone at Labelmaster!
Make sure your shipments are safe and in complete compliance with a full line of solutions from Labelmaster—a full-service provider of goods and services for hazardous materials and Dangerous Goods professionals, shippers, transport operators and EH&S providers.