Week of December 13th, 2021
Linking supply chain news with dangerous goods compliance
The past year and a half has highlighted the critical role the supply chain plays in our daily lives. It has also showcased TAs 2021 comes to end, businesses are busy forecasting what to expect in the coming year. Even as industry leaders make predictions, ongoing supply chain disruptions, labor shortages, the emergence of the Omicron variant, inflation and other factors continue to create a wide sense of uncertainty around what the new year will bring.
Let's examine some recent industry news.
---
SUPPLY CHAIN NEWS
Five Supply Chain Trends to Expect in 2022: Now, even as disruptions persist, supply chains have begun picking up the pieces and charting new territory to recover. Here, are some top predictions for supply chain trends in 2022.
---
OUR PERSPECTIVE
Uncertainty remains heading into 2022. The past two years have been a master class in navigating the unexpected. Even as supply chains have overcome a lot and continue to push their way forward, there are still myriad factors (both known and unknown) that the industry will be forced to address over the next year. But if the past two years have taught us anything, it's that businesses and the global supply chain is resilient.
Dangerous goods will remain regulated. Despite the uncertainty around many aspects of the global supply chain heading into next year, one thing we can be sure of is that DG will continue to be regulated and present challenges and risks for companies. As companies forecast and plan for an uncertain future, compliance must be considered. After all, compliance plays a part in almost every part of the hazmat supply chain, and it will be a major factor as businesses look for ways to meet growing demands and navigate ongoing disruptions.
Be aware of any regulatory changes. While DG being regulated remains a constant, the specific rules that must be followed continue to evolve. For example, on January 1, 2022, the new, 63rd Edition IATA Dangerous Goods Regulations will take effect, which includes changes to the packaging for air shipments of stand-alone lithium batteries. That's why it's important for both shippers and carriers to be aware of upcoming changes and ensure they have the necessary processes and training to stay compliant heading into the new year.
To learn more about Dangerous Goods software or how to establish a safer, more compliant supply chain, visit https://www.labelmaster.com.
Have questions about Dangerous Goods transport? Call the Labelmaster Regulatory Hotline at 1.800.621.5808.
---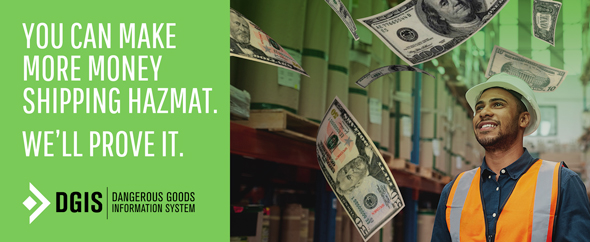 As the industry's most robust, flexible, and advanced hazmat shipping software, Labelmaster's DGIS can actually help your operation make more money. DGIS validates shipments and prepares DG declarations so quickly, you can handle more shipments every hour. And more shipments mean more revenue.
Try your own numbers in our calculator to see the added revenue DGIS can generate for you.

---