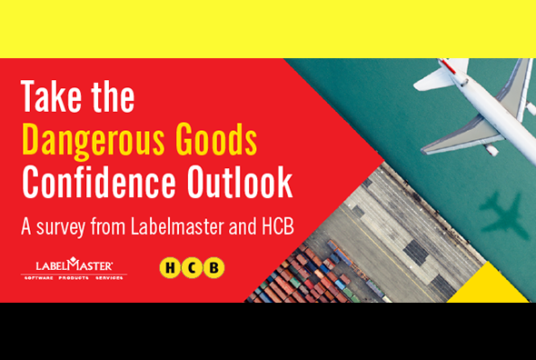 Labelmaster and Hazardous Cargo Bulletin (HCB) partner to create the Dangerous Goods Confidence Outlook
Should hazmat enforcement be more severe, or less restrictive? How important is Dangerous Goods compliance to your company? And which of the world's regions is leading the way in DG compliance?
Here's your chance to share your opinion with the entire DG community! The survey only takes a few minutes.

A partnership with global impact
As leaders in the world's hazmat shipping community, Labelmaster and HCB share a passion for making DG compliance the highest possible priority. Compliance is critical, because the world's economies depend on hazardous materials reaching their destinations safely.
That's why we've teamed up to create this first-ever global compliance survey.
We need to know—how confident are you in your abilities to ship hazmat safely, compliantly and efficiently? And how can that confidence level be improved?
In other words—we need your opinion! All answers will be kept anonymous, and you will not be contacted by Labelmaster or HCB for any selling purposes.
Take the Dangerous Goods Confidence Outlook survey today!
---
Labelmaster is a full-service provider of goods and services for hazardous materials and Dangerous Goods professionals, shippers, transport operators and EH&S providers. See our full line of solutions at labelmaster.com