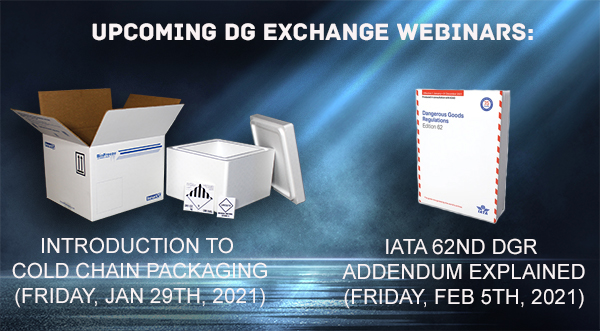 In the Dangerous Goods galaxy, you never run out of new subjects to master. That's why we try to connect you with industry experts whenever possible.
Sometimes a topic—such as cold chain packaging—takes on new importance due to global events. And we've got an upcoming webinar for that.
Sometimes a regulatory agency such as IATA issues an addendum to its brand-new manual that you just received. We've got an upcoming webinar for that, too.
Here's a closer look at these two free, can't-miss events.
Webinar #1: An Introduction to Cold Chain Packaging
An Introduction to Cold Chain Packaging
Friday, January 29, 2021—10:00 AM CST

Cold chain has always been an important sector of the supply chain, and it shares a big Venn diagram overlap with hazmat shipping. But the emergence of COVID-19 has intensified the frosty blue spotlight on cold chain like never before.
In spring, 2020, thousands of organizations suddenly needed to know how to ship COVID-19 test samples safely and compliantly. Later in the year, the supply chain was faced with the titanic logistics challenge of shipping COVID-19 vaccine doses safely.
With all this new attention on cold chain, two of our in-house cold chain packaging experts reached out to a Jerry Ferracamo at Inmark to put together this important one-hour webinar. An Introduction to Cold Chain Packaging will walk you through the basics and help you understand how to assess your needs. You'll learn how to answer these essential these questions:
What is driving the need?
What does success look like for a packaging change?
What are the design requirements?
What factors need to be considered when making your selection?
This webinar is tomorrow, but there are still openings available. Sign up today!
Webinar #2: The latest IATA DGR Addendum—Explained
Friday, February 5, 2021—10:00 AM CST

The IATA Dangerous Goods Regulations manual—informally known as the IATA DGR—is a 1,000-page , annually updated volume considered the definitive guide for any organization shipping hazmat by air. Even so, the regulations change more often than once a year, so IATA publishes addendums (addenda?) to keep the world's supply chains fully updated.
Since they published a significant addendum January 1, IATA Assistant Director Cargo Safety & Standards David Brennan has agreed to give this free, 30-minute webinar examining the recent changes and explaining what was behind them—along with what may happen going forward. You'll have the opportunity to ask questions in the Q & A following the discussion.
Save your spot for next Friday while they're still available. Sign up today!
____________________________________________________________________________
Have questions? Want to discuss other hazmat transport issues?
If you have questions about issues outside these webinars, or want to engage in more detailed discussions about anything related to Dangerous Goods, here are two more channels you can explore.
For answers to hazmat shipping questions, call the Labelmaster Regulatory Hotline—1.800.621.5808—8 AM to 5 PM, CST, Monday through Friday. Because we make DG compliance and safety our highest priority, there is almost no question too simple or too complicated for our experts to answer.
If you'd like to pose a question to—or start a conversation with—the entire Dangerous Goods community, visit the forums at the DG Exchange. Membership is free, and you can follow threads (or start your own topic) about regulatory issues, lithium batteries, IATA questions and more.
We're always working on new ways to connect you with the expert advice and resources you need. Because if you ship Dangerous Goods, your job is too important to do alone.
Make sure your shipments are safe and in complete compliance with a full line of solutions from Labelmaster—a full-service provider of goods and services for hazardous materials and Dangerous Goods professionals, shippers, transport operators and EH&S providers.