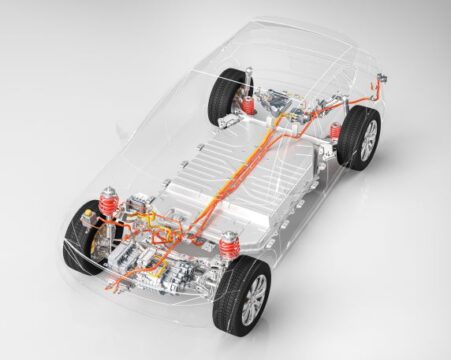 Electric vehicles are here to stay. This is not breaking news.
In 2021, global sales of electric cars doubled to a new record of 6.6 million—close to 10 percent of all new cars sold. In the U.S., electric vehicle registrations shot up 60 percent in the first quarter of 2022, and EVs now make up 4.6 percent of new car sales.
Today, just about every automaker either sells electric vehicles already or has them in the pipeline, ranging from tiny urban runabouts to massive all-purpose pickup trucks. But every one of these vehicles has one thing in common: They all run on large format lithium-ion batteries.
And large format lithium batteries are seriously challenging to transport.
That's why every organization in the automotive business—from the automakers themselves to the corner repair shop—needs a plan for large format lithium battery transport. Even if you never ship a battery yourself, you'll benefit from understanding the challenges involved.
What makes large format lithium batteries so difficult to ship?
Shipping any kind of lithium batteries safely and compliantly is challenging, because the rules are complex and change frequently. The world's regulatory bodies and cargo carriers routinely update their regulations for lithium battery transport. (For example, the U.S. Postal Service recently revised its hazmat shipping guide to further restrict how they accept and transport lithium battery devices.) So for any lithium battery shipper, compliance is a moving target.
What's more, the larger the battery, the more burdensome the rules become—and lithium batteries don't get much larger than the ones powerful enough to propel an automobile. Their power capacity makes them fully regulated, Class 9 hazardous materials, and their weight mandates further restrictions regarding transport modes and packaging.
And if those batteries are damaged, defective or recalled? The regulations and restrictions get even tougher.
Long story short, moving large format lithium batteries is big-league Dangerous Goods transport, requiring serious resources and expertise.
The basic requirements of large format lithium battery transport
Because electric vehicles are becoming so popular, any organization in the automotive industry should be familiar with the basic requirements of large format lithium battery transport. This includes automakers, of course, but also OEM manufacturers, component makers, dealerships, independent repair shops and even rental agencies.
These basic requirements include:
Many automotive organizations may be familiar with these challenges, yet still not adequately equipped to handle them. Other operations may just be getting up to speed. Unfortunately, automotive organizations who fall behind in these requirements risk civil penalties, costly delays and even more costly incidents if their battery shipments are non-compliant.
Even a company that never ships a battery itself—say, a manufacturer of brake components—should at least be familiar with the requirements. You may never need to invest in a large format lithium battery packaging system, but it's always helpful to understand your supply chain partners' challenges.
Being ready for a large format lithium battery recall
Most automakers likely have some plans in place for transporting large format lithium-ion batteries, especially if they're already selling electric vehicles. Fortunately, moving new batteries in good condition is relatively easy. They have the least burdensome regulations. Plus, you can use standardized packaging and implement uniform workflows across your operation.
Unfortunately, transport gets a lot more challenging for used or damaged batteries, and exponentially more challenging if there's a recall. And many automakers don't have a plan for those situations.
With large format lithium batteries, it's essential to have a plan in place to deal with problems before they become problems. That plan encompasses all the basic requirements described above, along with making sure you know in advance:
How to determine which batteries (or cellular module assemblies—a.k.a. CMAs) can be re-used, and which need to be recycled
How you'll design, test, build and source packaging systems for damaged, defective or recalled batteries
How to determine which packaging components can be re-used and which need to be replaced
Who your battery recycling partners will be, and what they will require from you
How you will ensure regulatory compliance for every step of the program, across all transport modes and destinations
The best way to make sure you have all that covered is to find a partner who's done it all before. Labelmaster offers a comprehensive reverse logistics solution for large format lithium batteries that includes regulatory guidance, custom packaging, customer service, ecommerce platforms, training and more.
Some of the world's largest automotive organizations trust Labelmaster to help them handle large format lithium battery transport safely, compliantly and efficiently. You can, too. Contact Labelmaster today!
Make sure your shipments are safe and in complete compliance with a full line of solutions from Labelmaster—a full-service provider of goods and services for hazardous materials and Dangerous Goods professionals, shippers, transport operators and EH&S providers.