Every four years the United States, Canadian and Mexican governments cooperate in issuing a revised edition of a wonderfully useful and often terribly important little orange book: the Emergency Response Guidebook, commonly known as "the ERG."
The 2016 edition is coming soon, and it promises to be more essential than ever.
From "quick and dirty" to indispensable
The U.S. Department of Transportation (USDOT) published the first ERG in 1973 to give emergency response workers on the scene of a hazardous materials incident a "quick and dirty" guide for correct and effective response.
Today, the ERG is the resource for first responders to identify chemical hazards in a transportation emergency. You'll find it aboard virtually every piece of fire apparatus, police vehicle, hazardous materials response unit and Coast Guard vessel in service today.
It's also indispensable for commercial drivers; train, plane and ship's crews; and chemical plant operators—in fact, just about anywhere people have a stake in the safe handling, transport and storage of hazardous chemicals.
And we do mean "anywhere"—the ERG sees service as far away as South America, Asia and the Mideast, with printings in English, Spanish and more than 30 other languages.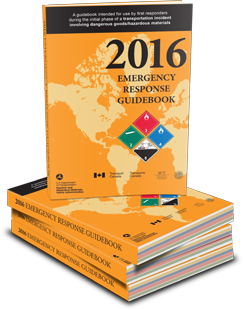 What makes the ERG so essential?
Among many other useful features, the ERG offers users:
Tabular data arranged by color code, identifying chemicals by proper shipping name or UN Identification Number (UNID#)
A direct reference from these tables to the emergency response guidance pages assigned to each chemical
A separate color-coded section dealing specifically with poisons by inhalation (by their unique dangers in transport)
Additional sections covering diverse topics such as identifying chemicals based on vehicle types, personal protective equipment (PPE) and potential terrorist-based scenarios
Also, the ERG has been available since 2008 as a downloadable PDF, and since 2012 as a mobile app. These digital versions are terrifically convenient, but most Dangerous Goods veterans insist on having the old-fashioned book handy. After all, a book never runs low on batteries just when you need it most!
What's new for 2016?
Since speed is often vital in a transport incident, the 2016 ERG—due out early next year—replaces some written instructions with flow charts that guide users more quickly and accurately through the book.
The new ERG offers lots of other new features that make it more helpful than ever:
Expanded and updated information about placards, markings and labels
Expanded identification charts for railroad cars, truck tanks and trailers
Added information about the new GHS-based Hazard Communication Standard (OSHA HCS), including information about pictogram markings
Updated lists of UN Identification Numbers and Proper Shipping Names
New and updated information about Canadian ERAPs (Emergency Response Assistance Plans)
Helpful new information about pipeline safety and spill response
No one wants to face the potential dangers of a hazardous materials emergency. But they happen. First responders and private workers need to know what to do, how to act and where to turn for help—and an up-to-date 2016 ERG is the essential resource to have on hand when things go wrong.
Order your 2016 ERGs from Labelmaster before September 30, 2015, and you could save up to 40% (based on quantity purchased). See our full line of hazmat and Dangerous Goods solutions at labelmaster.com.
Image © 8/2015 Nikki Burgess, used w/permission: Transport safety in an international arena, like this Canadian National train in rural Illinois, calls for an international information resource—our modern ERG.