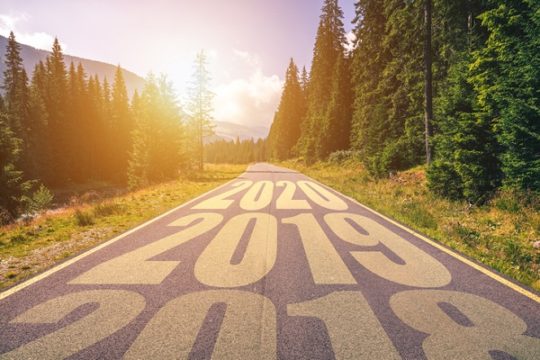 2018 was a relatively quiet year in the Dangerous Goods galaxy, with few major new regulatory changes and no unexpected surprises from domestic or international regulatory bodies.
Still, as Labelmaster's Manager of Regulatory Affairs and Corporate Responsibility, I hear all the questions from our customers and partners about how best to comply with regulations. This gives me a firsthand look at which new regulations are making the biggest impact over the course of the year. Based on customer concerns, here are the most important regulatory developments of 2018.
New lithium battery Class 9 labels and marks
These new Lithium Battery Class 9 labels and Lithium Battery marks have been available for use for almost two years during the regulatory transition period, but become mandatory January 1. Many shippers are already comfortable with them. Others, however, have continued to use the "old" labels (standard blank miscellaneous Class 9 and lithium battery handling), and still have some uncertainty about staying compliant after Jan. 1.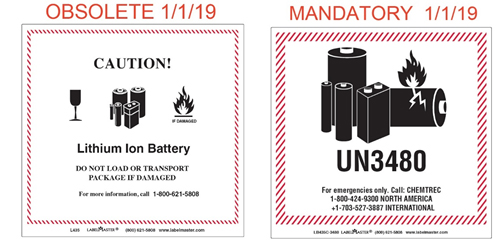 That uncertainty comes up because it's not just a question of switching one label or mark for another. For example, shippers could previously ship excepted standalone lithium ion batteries or lithium ion batteries contained in or packed with equipment using the same handling "Caution" label. But the new marks require the correct UN number to be displayed for the type of battery being shipped, so UN3480 applies to standalone batteries and UN3481 applies to lithium ion batteries contained in or packed with equipment. Knowing the UN number is not difficult, but specifying which mark is correct for which shipment adds another step to the preparation process.
Since shippers have had a two-year transition period to make this switch, there won't be any additional grace period. If you're still using the old labels and marks on Jan. 1, you can expect to have carriers reject your shipments.
New hazardous waste manifest
The new, 5-part hazardous waste manifest (EPA form 8700-22) became mandatory back in June, but for the most part shippers have adjusted smoothly. No surprise, because the form is nearly identical to the old, 6-part form. The only differences are:
Parts 1 and 2 of the 6-Part form, which were previously marked for distribution to states, were consolidated into one page to be submitted to the e-Manifest system.
There is a new warning on Part 3 for receiving facilities related to their responsibilities under the e-Manifest Act.
Instructions on the back of each part have updates corresponding to the user of each manifest copy.
The real question is, When will the process become 100 percent paperless? Paper manifests will still be allowed for at least the next three years. The manifest also serves as the DOT shipping paper, so a paper copy is required in transport unless a Bill of Lading is used. The possibility for electronic shipping papers doesn't appear to be on PHMSA's radar any time soon, so completely paperless shipping is years away from reality.
New regulatory publications from IATA and IMDG
Organizations that ship hazmat by air are busy getting ready to comply with the new, 60th edition of the IATA DGR, which comes into force Jan. 1. Since these regulations are mandatory right away, it's essential to incorporate any new rules into your processes immediately.
Nikki Burgess's Sept. 4 DG Digest summarizes the significant changes to the IATA DGR.
The IMDG Code is the only DG regulatory publication where there's a grace period between Amendments—new regulations in the 2018 39th Amendment are optional January 1, 2019, and mandatory January 1, 2020. Still, it's smart to get acquainted with the new rules sooner than later. You can find a full summary of changes to the IMDG Code in the Sept. 17 DG Digest.
Lithium batteries still generate the most questions
Even in a relatively quiet regulatory year, we still get more questions about lithium battery transport than any other subject.
The regulatory requirements for shipping lithium batteries are complex, and that's not going to change anytime soon. For instance, people frequently struggle with the differences between the 49 CFR, the IATA DGR and the IMDG Code when preparing their shipments. That's where we recommend the Lithium Battery Advisor. It's easy-to-use software that helps you classify battery shipments,so you know exactly which regulations apply, the type of packaging needed, how any applicable marks and labels should appear, and what documentation that is required.
Also, more and more companies who sell battery devices are becoming aware of their reverse logistics liability after all the incidents with hoverboards, phones and e-cigarettes. We're happy to tell them about Obexion Max packaging, because its special permit lets consumers ship damaged or defective product back to them as "excepted" instead of fully regulated, which means they do not need the full hazmat training that would otherwise be required. Most important, Obexion Max packaging mitigates thermal runaway risk via the use of the Obexion Technology Suite—flame retardance, thermal management, pressure management, blast and projectile containment, flame arrestment, flammable & hazardous gas filtration and smoke filtration—yet requires no gel packs, beads, heavy liners, pellets, or fillers.
Early warning for 2019: 49 CFR HM-2150 International Harmonization
Sometime in the first half of next year, PHMSA will publish its final rule aligning U.S. regulations with the 20th Edition of the UN Model Regulations, the ICAO Technical Instructions, and IMDG Code 39th Amendment. (The public comment period closes on January 28.) These harmonizations usually trigger numerous rules changes.
To get a jump on 2019 regulations with the most current printed publication of the 49 CFR, Labelmaster's Early 49 CFR is in stock and up to date as of October 2018!
And if you ever have questions about Dangerous Goods regulations—old, new or those on the horizon—please feel free to contact me.
I hope your holidays are safe and compliant. See you in 2019!
Labelmaster is a full-service provider of good sand services for hazardous materials and Dangerous Goods professionals, shippers, transport operators and EH&S providers. See our full line of solutions at labelmaster.com.