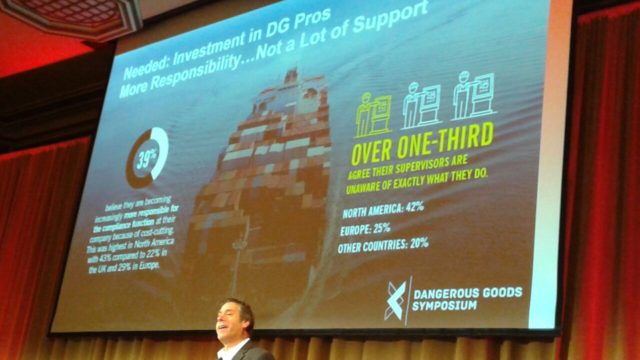 At 8 a.m. on a clear September day, Chicago's historic Drake Hotel looks out over Lake Michigan waters still sparkling from the sunrise. But a different sort of outlook drew the focus of the Dangerous Goods professionals assembled for the 12th annual Dangerous Goods Symposium—a view that was far more serious.
Day 1 of the DG Symposium featured the stunning results of the first-ever global compliance confidence survey and a stirring keynote speech. Here's a quick recap.
The Global Dangerous Goods Confidence Outlook
Labelmaster VP of Marketing Rob Finn and Peter Mackay, Director of HCB Publishing, presented the results of the first-ever global survey of Dangerous Goods pros. The survey, a joint effort of Labelmaster and Hazardous Cargo Bulletin, polled hazmat pros in North America, Europe, Asia and the Middle East about their roles, their concerns, their organizations and their views on the global supply chain.
The results were surprising—somewhat discouraging, but with clear directions for future improvement. Here's a sample:
88% believe keeping DG secure across the entire supply chain is more important than ever.
67% feel that even following the rules to perfection might not be enough to avoid stopped shipments.
27% believe their training programs don't adequately prepare people to comply.
34% say their supervisor is unaware exactly what they do.
24% still use manual processes.
Finn wondered why so many companies still used outdated technology—or none at all—to process shipments that, if non-compliant, could lead to financial catastrophe. It's hard to make technology investment a priority, he said, when "You go to your boss for help, and they're not really sure what you do."
Mackay added, "Things are getting tougher for DG pros. More materials classified as hazardous, more regulations, more complexity. Too often compliance seems like a cost, just trying to avoid financial penalty. What you as a community need to do is to make your supervisors aware of the value of the compliance function."
That statement was a perfect lead-in to the keynote address.
What business are you in? (Hint: Don't say Dangerous Goods)
As previewed last week, Adrian Gonzalez—the host of Talking Logistics and an 18-year veteran of the logistics industry—delivered a three-part recipe for keeping your company ahead of technological change.
He also suggested a one-question method of awakening your organization to the need for making compliance a higher priority.
His three keys for making your business a company of tomorrow:
Unlearn "the way we've always done it." Gonzalez once worked for Polaroid and Motorola—two now-vanished companies who once dominated their categories.
Stop shoveling snow with a dustpan. There's a "supply chain blizzard" underway, as the Amazon effect and new technologies like blockchain bring about transformational change. You have to have the right technology in place, or you'll never dig your way out.
Stop confusing cooperation with collaboration. Ever notice how TV crime reports say "the suspect is cooperating?" That's not what you want. True collaboration requires a shared vision supported by high-level metrics.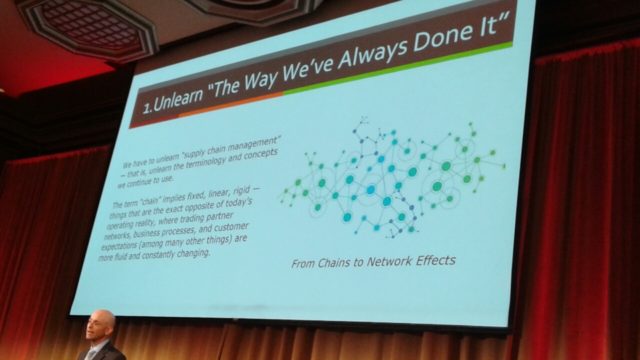 How do you get your company to support these crucial technology investments? By changing your answer to the question, "What business are you in?"
If you answer "Supply Chain Risk Management" or "E-Commerce Enablement" —and back it up with the CFO's language of balance sheets and strategic objectives—you'll start bridging the chasm from DG compliance being viewed as a cost-center to being recognized as growth engine.
Quote of the Day
"Our work as hazmat regulators is in the weeds. We're not talking about politics, we're talking about millimeters." —Shane Kelley, International Standards Coordinations Assistant, PHMSA
Look for the Day 2 recap tomorrow!
Labelmaster is a full service provider of products and services for the Hazardous Materials and Dangerous Goods professional, shippers, transport operators, and EH&S providers. See our full line of solutions at www.labelmaster.com.