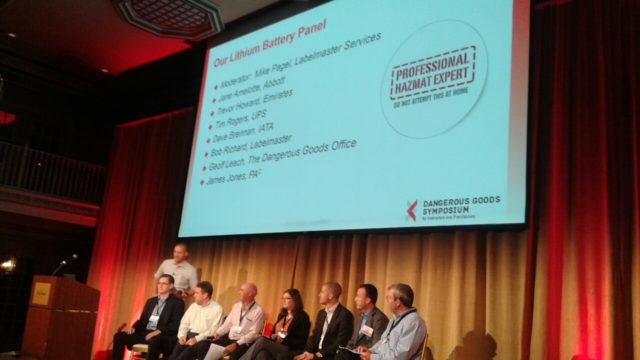 Day 3 of the Dangerous Goods Symposium has, for the last few years, been known as "Lithium Battery Day." It's only a half day, but the always-vigorous discussion panel gives the 300 DG pros in attendance a full day's worth of information to digest.
We'll get to highlights of today's panel in a minute. But first—take a few minutes to enjoy Kids Say the DG'est Things, our Day 1, conference kick-off salute to the DG pros who keep shipments compliant and kids baffled.
If you're thinking Hmmm, lots of corporate management types aren't much better informed about DG than these kids, you probably enjoyed the Global Dangerous Goods Confidence Outlook presented on Day 1.
But if you're thinking, Okay already, tell me what happened at the lithium battery panel, read on.
The lithium battery challenge gets more challenging
This years' panel, from left-to-right in the photo at the top:
James Jones, PA2
Bob Richard, Labelmaster Services
Dave Brennan, IATA
Jane Amelotte, Abbott
Trevor Howard, Emirates
Tim Rogers, UPS
Geoff Leach, The Dangerous Goods Office
Jones, whose company developed Obexion—the breakthrough lithium battery packaging line offered exclusively by Labelmaster—began the discussion with a sobering look at the projected growth of the lithium battery industry:
Continued double-digit growth in lithium ion battery production, with quantities doubling every 3.2 years
Production costs projected to drop by half between 2015 and 2020
Power density doubling every ten years
New markets such as electric vehicles outgrowing the demand for personal devices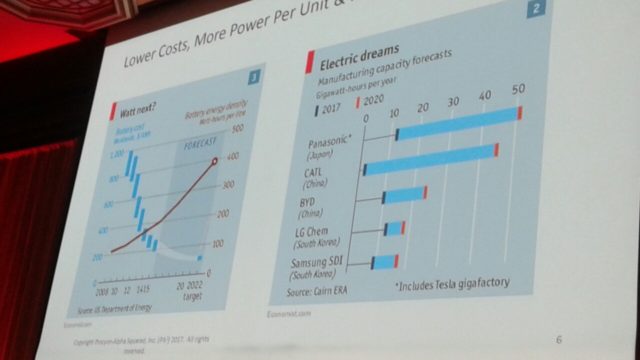 All of which means, no matter how challenging it may be to transport lithium batteries and battery devices, the problem isn't going away any time soon. And the challenge, Jones reminded us, is deadly serious. A single laptop battery can produce 36 liters of flammable gas—and all it takes is a single spark to create a disaster.
Lithium batteries really are a life-and-death issue
Amelotte, whose company markets defibrillators, heart pumps, glucose meters, pacemakers and other medical instruments, said, "You can't find replacement batteries for our products at Walmart. Hospitals don't stock them in inventory. Imagine you're in heart failure, you're too sick for defibrillation, and you can't get a replacement battery for your pump. You will die."
Medical instrument users represent a small fraction of the demand for lithium batteries, of course, but Amelotte's point represents the sharp edge to the debate about the merits of increasingly restrictive transport regulations.
Everyone wants safety. No one wants to see a plane go down. But everyone has a different view on how to balance safety with industry needs.
IATA's Brennan knows all too well that regulations can seem unreasonable. (Recall the cheers on Day 2 when he announced the end of the "2 millimeter rule.") He admitted that the April, 2016 rules prohibiting standalone lithium ion batteries as cargo on commercial flights "put significant stress on the supply chain. Going as far as we did was a fairly blunt instrument."
He added, "ICAO and others need to be more data-driven. Too much of what is done is based on anecdote and gut instincts. If you can demonstrate that one type of battery is inherently less hazardous, we'll adjust the regulation."
Enforcement can't be up to the carriers alone
Data plays a major role for the carriers, who are the ultimate arbiters of what goes on their planes. The information they gather from compliant shippers helps them adjust the variations they sometimes impose over existing regulations.
Rogers said, "With fully regulated battery shipments, we know what they are and where they came from. We have more information that we can process as we need to."
Howard added, "We continually update our safety risk assessments. We look at it from change management perspective, also taking into consideration the passenger's side, what they're bringing on board. There are a huge number of variables."
Richard asserted that rejecting shipments is only one way to make lithium battery transport safer. "It takes a multi-layered approach. ICAO working groups are focused on G27 packaging. But our planes aren't manufactured to survive lithium battery fires. Why aren't we trying to enhance the planes? The NTSB was recommending better ULDs back in 2006."
Still, the panel was universal in their agreement that enforcement has to be better.
Richard said, "Even if we regulate the living hell out of shippers, there are still going to companies that skirt the regulations. There's a greater incentive for people to cheat. No matter what, there are going to be undeclared shipments. We need to make an example of cheaters."
"China gets bad press," said Brennan. "People will flout the regulations anywhere in the world. IATA has called on the states to penalize willful noncompliance very severely. If people make mistakes, we'll follow up and make sure they're fixed, but if people willfully violate we have to hit them very hard."
The role of the Dangerous Goods trainer
Leach pointed out that trainers often need to help employees comply with regulations that don't seem to make sense.
"It's hard to explain why standalone lithium ion batteries must be shipped with a 30 percent state-of-charge, while those packed with equipment can be 100 percent charged," he said. "Paint is also a regulated material, but if you pack it with brushes you don't call it 'paint packed with equipment.'"
Brennan insisted that regulators can do more to help trainers. "Regulators need to get into the real world. They don't understand how cargo moves today. We mandate training people to perform functions defined in the ICAO technical instructions written in 1979. In today's large organizations, the whole packing process is automated. Who needs training? The software developer? The system designer?
"We all need to be talking about this. No more pretending we can spend five days in a classroom with a PowerPoint deck and have people adequately trained."
Labelmaster is a full service provider of products and services for the Hazardous Materials and Dangerous Goods professional, shippers, transport operators, and EH&S providers. See our full line of solutions at www.labelmaster.com.