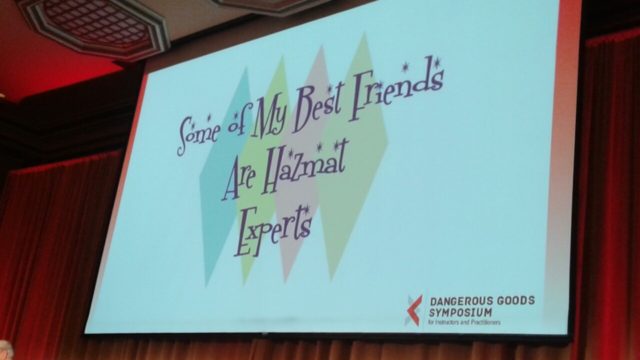 "We abbreviate' hazardous materials' to 'hazmat,'" said Gene Sanders, kicking off Day 2 of the 2017 Dangerous Goods Symposium. "I say we shorten 'Dangerous Goods training' to 'Dang Good training.'"
Sanders, co-founder of W. E. Train Consulting, gave the 300 DG pros on hand an entertaining look at an assortment of horrific explosions, spills and other disasters that didn't happen—because they were prevented by "Dang Good training."
While Day 1 of the Symposium looked toward a potentially exciting future, Day 2 focused on the challenges, responsibilities and occasional vexations of the present. Here's a brief recap.
The Global Regulatory Landscape
A quartet of experts briefed the attendees on upcoming changes—and current challenges—affecting the regulations that govern international hazmat transport and handling.
Dave Brennan, Assistant Director at IATA, elicited cheers by announcing that "the 2 millimeter rule is gone." The UN Sub-Committee admitted that the much-reviled rule, mandating a 2-mm wide border on all hazmat labels, added nothing in the way of safety, but did create the absurd notion of airlines doing acceptance checks with micrometers.
In more significant news, Brennan described new regulations that will prohibit lithium batteries from being shipped in close proximity to other flammable Dangerous Goods categories.
Jeff Hart, retired former Chairman of the UN Sub-Committee of Experts on Dangerous Goods, discussed changes to IMO maritime shipping regulations. In particular, he focused on a "new concept involving articles such as vehicles, machinery and equipment containing DG not otherwise specified."
He called this more generic approach, which gets away from new entries for every new concept that comes along, a major opportunity for the DG community.
Hazmat consultant Ben Barrett talked about "the dream of a harmonized global system" for hazard communications. But it's not that simple, he said, because "GHS is not a regulation. You can't comply with it—you comply with your country's codes." And countries will write those codes differently.
GHS standards are also more complex than transport DG regulations, with five hazard levels (as opposed to three DG packing groups) and as many as 25 cautionary statements for any given material.
Kristel Vermeesch, Managing Director of KVS & Partners, gave what amounted to a primer in ADR, the European framework for governing ground transport of Dangerous Goods. ADR, she said, is better harmonized with the UN Model Regulations than the 49 CFR, and is ahead of its North American counterparts in other ways, as well—including exam requirements for DG trainers.
Damaged lithium batteries and reverse logistics
An afternoon panel examined the challenging realities of making sure lithium batteries and battery devices are shipped compliantly when they're damaged or recalled. Considering the recent history of such recalls, the topic might be considered—egregious pun alert—flaming hot.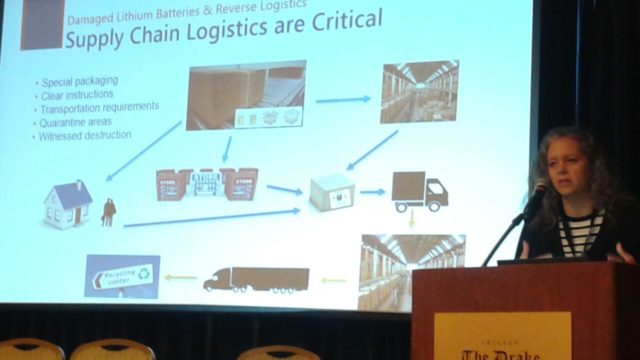 Labelmaster's Bob Richard pointed out that it can be challenging to even define what constitutes a damaged battery. "A battery that's already had a thermal event poses no danger," he said. He favors changing the language of SP376 to define damaged batteries as those that "differ from the original design type in a way that the cells or batteries have the potential of producing a dangerous evolution of heat, fire or short circuit …."
Chris Harvey, Director of Recall Solutions at Stericycle, stressed the "need to proactively understand packaging requirements. "What carrier is going to ship the product? What labeling is needed? Can the battery be removed and recycled on its own?" He recommended templated communications for both consumers and retailers involved in the recall.
As a retailer who's dealt with some huge, recent recalls, Rebecca Sharpe, Manager of Product Compliance and Safety at Best Buy, recommended companies invest in every form of consumer communications, including 800 numbers, IVRs and dedicated web pages. Another good idea: have a mock recall. "We identified 27 different internal teams involved in the Samsung recall," she said.
Live from LabelmasterFest!
Once again, we set up a live blogging station at LabelmasterFest, the evening party where Symposium attendees cut loose with great food, drinks and music. Here are some candid comments from folks who stopped by the table: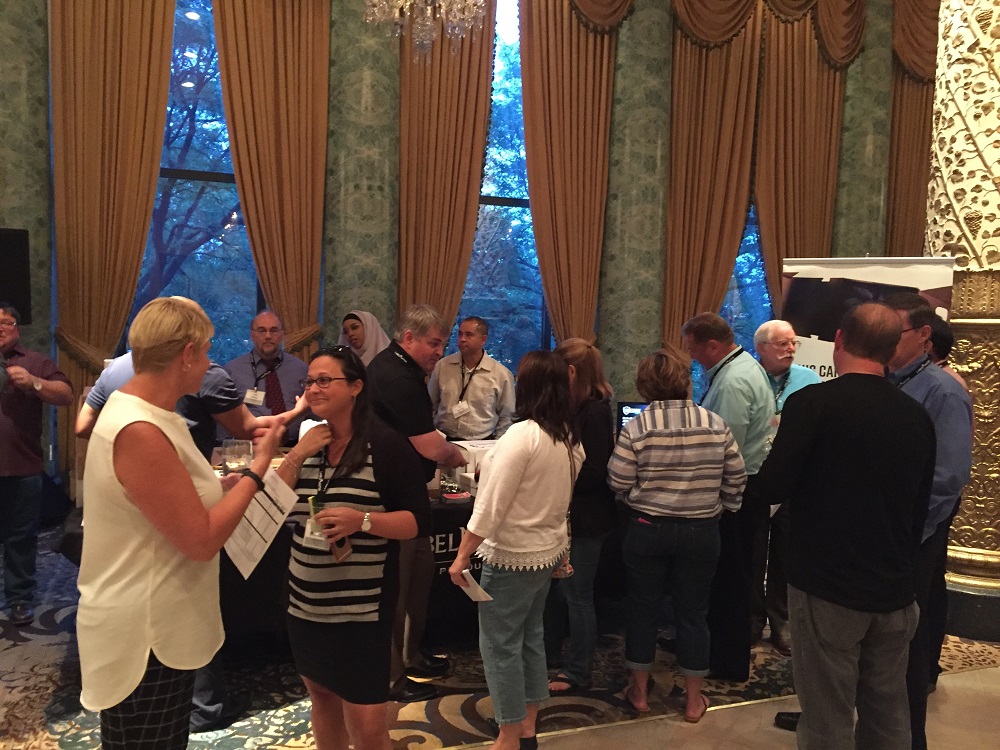 "I've met more people in DG in the last 48 hours than in my entire career. I'm the only DG trainer at a small consulting firm, and now I will always have someone I can call." —Jacqueline Hardt, Zoubek Consulting
"I found the session on Transport Canada very valuable. It helps us plan accordingly." —Sam Moyers, Arcadis.
"DG compliance is a high priority with us, getting more key people in key areas to understand the business. If we don't know what we're doing, we're not going to be serving the customer." —Jesus Martinez, Geodis
 "I've enjoyed getting the customers' perspective, and I'm looking forward to tomorrow's lithium battery panel."­— Ben Watson, DHL Express, Singapore
"I appreciate the focus on ways to improve training and keep students engaged. There are so many industry pros here, it's great networking, a chance to learn from each other." —Alec MacAdam, Arcadis
"I liked the defective lithium battery session, a very good collaborative forum." —Peter Apostoluk, Amazon
"Thank you for helping keep regulators in touch with the pulse of the DG community." —Shane Kelley, PHMSA
"Adrian Gonzalez's session was what I've been preaching for years—DG as supply chain management." —Steve Hawks, Hawks Logistics
"The information is awesome!" —Dianne Pridgen, UPS
Look for the complete Symposium recap next week!
Labelmaster is a full service provider of products and services for the Hazardous Materials and Dangerous Goods professional, shippers, transport operators, and EH&S providers. See our full line of solutions at www.labelmaster.com.