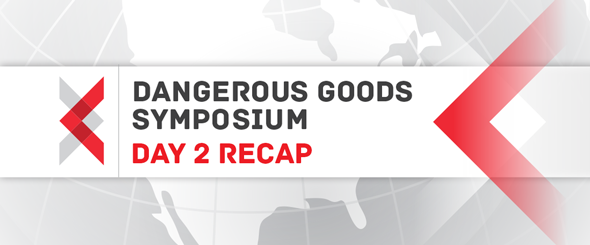 This post comes to you fresh from the terrace of the stunning Loews Chicago Hotel. It's LabelmasterFest, where more than 200 of the world's foremost Dangerous Goods practitioners are enjoying a gorgeous evening with dinner, drinks and interactive, DG-related games.
Way back this morning, Labelmaster VP of Marketing Rob Finn kicked the day off with fun facts about things invented in Chicago—like spray paint, zippers, Twinkies, vacuum cleaners and the Ferris wheel. And Labelmaster President Alan Schoen shared some remarkable statistics about this year's Dangerous Goods Symposium:
With 221 attendees, DGS16 was the best-attended yet.
18 different countries were represented.
Fully 50% of attendees are first-timers
Here's what the DGS newbies and veterans had to say about today's sharp insights and strong opinions:
A North American Dangerous Goods Review
"Having the ability to keep in touch with upcoming regulations and modifications is key for any DG professional. Keeping our thumb on the pulse of the industry, that's what we look for." —Chrim Middleton, Monarch Regulatory Services
Michael Stevens of PHMSA engaged in a comprehensive overview of recent and upcoming changes to US hazmat regulations, while Dave Evans of EDG Consulting covered similar issues on the Canadian side of the border.
A Global Perspective—The DGS International Forum
"IATA, ICAO—for an air guy that was pretty good. It's fantastic to bring everyone together, to get lots of different views—so multifaceted." —Michael Barclay, Air Canada
This freewheeling panel featured David Brennan of IATA, Geoff Leach of The Dangerous Goods Office, Ltd., and Pichuiyer Balasubramanian—better known as Bala—recently retired from Emirates SkyCargo.
Brennan focused on 2017 changes to the ICAO Technical Instructions and IATA DGR. He took several questions about the lack of a level playing field between lithium batteries packed separately and those packed with equipment, and addressed the difficulty of warning air passengers about hazmat: "Airlines do their level best to never have contact with passengers! How do you get them to understand Dangerous Goods information?
Leach covered the United Nations' ADR, but injected editorials about IATA's change from markings to marks ("Who knows how many lives that will save?") and tunnel safety ("In 25 years I've never seen a tunnel code on a shipping declaration, but it makes sense they should have them.")
Bala discussed the paradigm shift behind Competency Based Training, describing "the classic argument of ends vs. means," and asking, "Must Regulations be prescriptive or define the required outcome?"
Does the DOT Know what a D.O.G. Knows?
"Presenters here ask the hard questions. Jerry Cox gives you both sides of the story." —Jonathan Syphal-Kohout, iHazmat
"Jerry Cox's session was amazing. I am new to the industry and he was really enlightening." —Elizabeth Mehlich, Essex Industries
"Cox is the best hazmat attorney in the industry." —Sonia Irusta, Hazardous Material Compliance, Inc.
The answer to Jerry Cox's provocative question comes in this quote from Oliver Wendell Holmes: "Even a dog knows the difference between being kicked and being stumbled over."
But the US Department of Transportation, in Cox's experience, doesn't always distinguish between those who intentionally flout hazmat regulations and those who commit violations without the knowledge that they've done anything wrong.
Cox, of Potomac Strategy Associates, quoted a U.S. House committee report:
—Imposition of penalties … for unknowing and unavoidable violations of the law is contrary to … [American] concepts of law and equity … and inconsistent with our basic legal and equitable concepts & standards…."
He closed with this response to a questioner who asked if was worth it to fight penalties like these: "Writing checks isn't good for business, and it isn't good for democracy."
Come back next week for a complete Dangerous Goods Symposium recap! Did you miss Day 1? Read the recap!
Make sure your shipments are safe and in full compliance with a full line of solutions from Labelmaster—a full-service provider of goods and services for hazardous materials and Dangerous Goods professionals, shippers, transport operators and EH&S providers.