Every year in the United States, there are approximately 1,500 reported transportation incidents caused by undeclared hazmat shipments. These rail fires, battery explosions and other incidents injure carrier employees and first responders while exposing them to dangerous chemicals and substances.
Dangerous Goods regulations are useless if shippers don't know what Dangerous Goods are.
Ask any Dangerous Goods or supply chain professional about hazmat and you'll get a matter-of-fact answer with no hesitation, complete with a laundry list of examples. But ask any number of e-commerce shippers, retailers, small business owners or people on the street, and the knowledge gap becomes as evident as a biohazard placard on an ice cream truck.
That's the problem—and the U.S. Department of Transportation is doing something about it.
Introducing "HazMatt"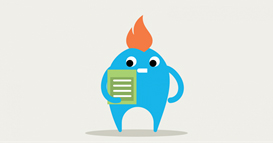 HazMatt is the quirky blue star—with flaming orange hair—of the new "Check the Box" campaign developed by the U.S. DOT and PHMSA. He's a friendly field trip docent leading the uninformed straight into the danger that can lurk inside an unlabeled cardboard box.
At September's Dangerous Goods Symposium, PHMSA representatives explained that DOT launched the Check the Box campaign to address the ongoing problem of undeclared hazmat in cargo holds—a.k.a. the "plain brown box" scenario—so carriers aren't left in the dark.
There are two types of undeclared hazardous material:
Unknown hazmat from shippers who are unaware they're shipping hazmat
Known hazmat that's intentionally undeclared to avoid fees
While DOT and other regulatory bodies work continuously to identify and penalize intentional offenders, the Check the Box campaign is aimed at the first group. HazMatt cuts through the legalese to educate people, help them easily identify hazmat—and get the guidance they need to ship it safely.
Getting shippers to "Check the Box"
HazMatt's goal is to get more shippers to—literally—check the box they're shipping to make sure they're not inadvertently shipping hazmat.
The first step in that process, of course, is to raise awareness that many everyday items—looking at you, lithium battery devices—are hazmat. People don't know what they don't know, so Check the Box provides educational materials and consumer-friendly resources to help FedEx, UPS, modal partners, USPS and mail carriers get the word out.
Additionally, Amazon and eBay are taking steps to educate their sellers who distribute goods directly through them, and eBay is also aiming to educate sellers who ship directly to customers.
DOT urges anyone who isn't sure if they're shipping hazmat to request a Safety Data Sheet (SDS) from the item's manufacturer, which contains all the information they'll need to ship the item safely. If it's still unclear, shippers can call the Hazardous Materials Information Center toll-free at 800.467.4922 or send questions via email to infocntr@dot.gov.
Take a cue from HazMatt
As supply chain professionals, we can all take a cue from HazMatt. We are, in fact, our own best first line of defense when we help educate supply chain partners and the general public about the dangers of undeclared hazmat.
We all know it's critical for everyone who ships a package to declare any regulated items in their shipment—not to mention documenting, packaging and labeling those items compliantly. We're thrilled to have DOT putting its resources behind making sure others know it, too.
We may never be able to prevent someone from falsely declaring "no perfume" at a post office to avoid an upcharge on Aunt Thelma's holiday care package. But if the Check the Box campaign makes people think twice about the consequences of letting hazmat go undeclared, HazMatt will be our hero.
---
Labelmaster is a full-service provider of goods and services for hazardous materials and Dangerous Goods professionals, shippers, transport operators and EH&S providers. See our full line of solutions at labelmaster.com.