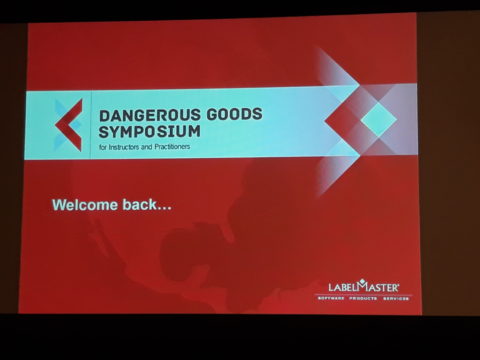 Sometime in the not-too-distant future, someone will fill out the last paper Dangerous Goods declaration—ever.
After Day 2 of the 2018 Dangerous Goods Symposium, it's clear that the era of manual, paper-based Dangerous Goods processes is in its twilight. Here are some highlights from a day of revelations and insight.
Blockchain and its coming role in hazmat transport
Before today, many of the Dangerous Goods professionals in the room may have heard of blockchain, but most lacked a clear idea of what it was, let alone what role it might play in hazmat transport.
Then Dean Croke, Chief Analytics Officer of FreightWaves and the Blockchain in Transport Alliance, took just 45 minutes to explain what blockchain is, what it isn't, and how it might change Dangerous Goods.
"Blockchain is a decentralized and distributed digital ledger to record transactions," Croke said. He shared a chart depicting a potential hazmat implementation of blockchain, in which a smart contract connects shippers, carriers and 3PLs—in real time and with complete visibility—until the load is delivered and payment is made.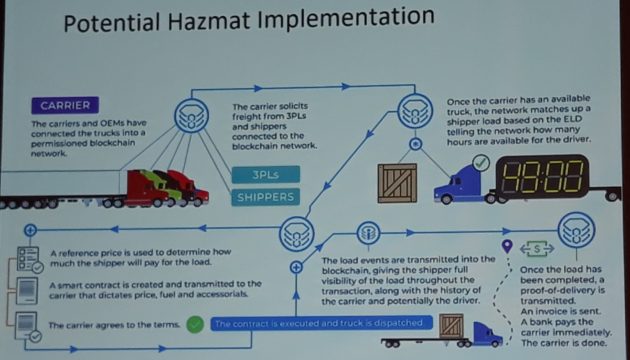 "You could add rules and conditions to guarantee that the driver is qualified to haul hazmat, or that the carrier is insured to haul hazmat. That's built into the blockchain for every party to see."
He acknowledged that blockchain is entering a "trough of disillusionment," where reality falls short of initial hype, He also cautioned that "blockchain data is immutable—once you load it, it can never be changed, so before you even think about a blockchain solution, you have to step back and ask how clean your data is."
But when carriers still have to fax proof of insurance just so truckers can get hazmat cargo loaded—in 2018!—blockchain's future in DG looks inevitable and bright.
Automating air cargo acceptance—finally
"I flew here from Australia without using a single piece of paper," said Dave Brennan, Assistant Director of Cargo Safety & Standards at IATA. "Paper tickets disappeared around 2000, so why does cargo still need all this paper?"
That's a question IATA set out to solve, and—judging by a demonstration given by IATA colleagues Brennan and Assistant Director of Dangerous Goods Publications James Wyatt—they've nailed it.
IATA's DG AutoCheck platform—still in pilot testing, but scheduled to go live in October—helps Dangerous Goods acceptance checkers execute in minutes a process that can take hours with manual, paper-based processes. With documentation scanned from paper or digital sources, the checker simply verifies each data point in a simple, intuitive digital form.
Wyatt said the platform will relieve the time lag, errors, language barriers and cost of paper-based acceptance. "It removes the margin for error, so you'll get consistent results every single time."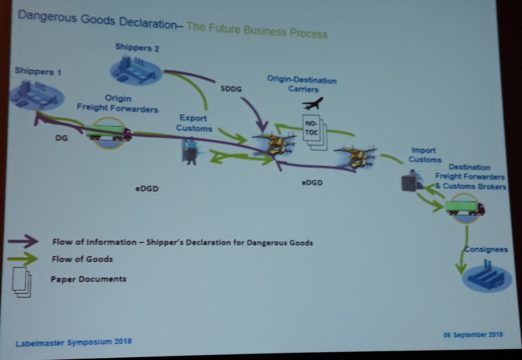 "One airline already will not accept Dangerous Goods without an electronic waybill, and another charges extra for paper, said Brennan. "Once airlines see what's possible, they'll drive this forward. It will snowball quickly."
Regulatory updates—and a long, strange trip
The Global Regulatory Landscape panel is a highlight of every Dangerous Goods Symposium, and this year's experts fulfilled the crowd's highest expectations.
PHMSA's Duane Pfund, who is also Chairman of the U.N. Subcommittee on the Transport of Dangerous Goods, described the latest efforts at harmonizing hazmat regulations.
Dave Brennan—who had a busy day—shared an overview of changes in the new edition of the IATA Dangerous Goods Regulations. Richard Masters, of DG Masters, Ltd., explored the reasons for (and ramifications of) new IMDG regulations for polymerizing chemicals, and Ross McLachlan, of The DG Office UK, delivered a thorough summary of changes to European ground transport regulations.
Then they were all upstaged by Diego Gotelli, Director of the Argentinian regulatory agency CIQUIME.
To highlight the patchwork of regulatory protocols that govern hazmat transport in Mexico, Central and South America, Gotelli described a true Phosphorus Oxychloride delivery from San Antonio to Buenos Aires that required four placard changes and five different formats of "emergency cards"—and still incurred $30,000 in fines.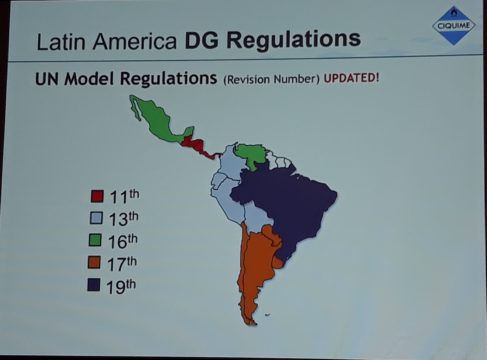 Over the 10,500-mile route, the cargo spent half the distance as hazard class 6.1 and half as class 8. In the understatement of the decade, Gotelli said, "We need harmonization."
Voices of Labelmasterfest
Thursday night at the DG Symposium is always the time for great food, fine drink, friendly networking and lots of fun. Tonight, with a magician and two caricaturists entertaining the crowd, several attendees shared their thoughts about this year's Symposium:
"The diversity in the industry here is overwhelming, and the knowledge level is insane." —Veronica Kinsey, Operations Manager, Purolator
"It's so valuable seeing other people in the same position we are, just knowing we're not alone, that we're doing the right thing." —Julie Whitehouse, Materials Management Supervisor, Corning, Inc.
"It's really great to see regulators being open and engaging with 300 DG professionals. Both sides get feedback and shared knowledge." —Peter Mackay, HCB Editor-in-Chief
"I enjoyed this forum for many reasons, one being the opportunity to meet with our regulatory leaders. The opportunity to reach out to people at their level is something you don't get every day." —David Burmeister, Dangerous Goods Manager, Matson
"There's so much good information. I liked the CHEMTREC presentation, since I wasn't aware before about the extent of their service." —Kelly Hansen, Transportation Safety Program Manager, UChicago Argonne
"I got a lot out of the Competency Based Assessment session, since I train people and I need to make sure they're competent to do their jobs." —Torsten Helk, BDP International
"It's great to be around people who understand what you do, because when you tell other people their eyes glaze over." —Abigail Martni, EHS Professional, Neovia
"We're not competitors here, we're a brotherhood. I can always find someone who understands what I'm up against."—Rusty McMains, HSE Specialist, CEVA
"Today's panels were a lot of fun and educational, seeing where regulations will be tomorrow. Great panel on building a compliance program yesterday, too." —David Walbran, Compliance Manager, Zebra Technologies
"It's awesome. To have the entire DG community under one roof to share knowledge is unparalleled. Every company should send their DG employees to gain from this huge knowledge base." —Ritwik Kaushik, Manager of Dangerous Goods Compliance, Etihad Airways
Tomorrow: The famous Lithium Battery Panel
Miss our Day 1 recap? Catch up here!
Labelmaster is a full-service provider of goods and services for hazardous materials and Dangerous Goods professionals, shippers, transport operators and EH&S providers. See our full line of solutions at labelmaster.com.