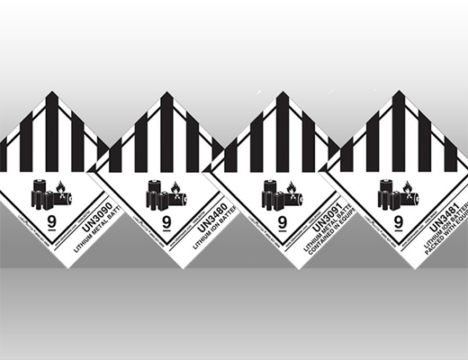 Here we are in the midst of the winter holiday season! Hopefully, everyone is having a chance to throttle back a little and enjoy time with friends and family. Remember—don't overdo it! Be safe while driving and doing all the once-a-year things that often happen at this time of the year. No one needs any holiday trouble! Meanwhile, things on the regulatory front are often a little quiet during this time, but not this year. Lots of action again this week! Let's dig right in:
PHMSA
In a significant action, the agency published final rule HM-224I, revising provisions for lithium cells and batteries transported by aircraft. The rule is effective January 20, 2023. Highlights include:
Authorized an additional text marking option for smaller lithium cells and batteries without specifically indicating the battery chemistry (i.e., ''LITHIUM BATTERIES—FORBIDDENFOR PASSENGER AIRCRAFT'') was adopted
Clarified that when the marking in § 173.185(c)(1)(iv) – "LITHIUM BATTERIES – FORBIDDEN FOR TRANSPORT ABOARD AIRCRAFT AND VESSEL" is applied to a package of intermediate-sized lithium cells or batteries, then the mark or label in § 173.185(c)(1)(iii) – "PRIMARY LITHIUM BATTERIES – FORBIDDEN FOR TRANSPORT ABOARD PASSENGER AIRCRAFT", "LITHIUM METAL BATTERIES – FORBIDDEN FOR TRANSPORT ABOARD PASSENGER AIRCRAFT", "LITHIUM ION BATTERIES – FORBIDDEN FOR TRANSPORT ABOARD PASSENGER AIRCRAFT" or labeled with a "CARGO AIRCRAFT ONLY" is not also required to be displayed.
Clarifies the implementation of the exception, with approval of the Associate Administrator, for air transportation of lithium batteries intended for use in medical devices.
In a second important final rule issuance PHMSA published HM-260B, making editorial and other corrections and modifications to the HMR. Highlights of this issuance:
correct typographical errors in the HMR
fix incorrect regulatory references and citations
remove obsolete references to regulatory provisions, dates, and outdated concepts such as other regulated materials-domestic (ORM–D)
address misstatements of certain regulatory requirements
supply information or language that had been inadvertently omitted
revises certain procedural regulations at 49 CFR parts 107 and 110 to make them easier to understand
The agency expects the regulatory amendments adopted in this final rule will "ensure stakeholders can focus their resources on compliance with pertinent safety requirements of the HMR rather than trying to resolve erroneous, ambiguous, or obsolete language within PHMSA's regulations."
CPSC
The commission published an open recommendatory letter to stakeholders that manufacture micro-mobility products (think scooters, skateboards, etc.) urging them to ensure that their applicable lithium battery powered products comply with ANSI/CAN/UL 2272 – Standard for Electrical Systems for Personal E-Mobility Devices dated February 26, 2019, and ANSI/CAN/UL 2849 – Standard for Safety for Electrical Systems for eBikes dated June 17, 2022, and standards they incorporate by reference. The letter is issued in response to a number of troubling battery related injury and fatality events involving such products. See the letter here.
FMCSA
The agency amended its Hazardous Materials Safety Permits regulations to incorporate by reference the April 1, 2022, edition of the Commercial Vehicle Safety Alliance's (CVSA) handbook (the handbook) containing inspection procedures and Out-of-Service Criteria (OOSC) for the inspection of commercial motor vehicles used in the transportation of transuranic waste and highway routecontrolled quantities of radioactive material. The OOSC provide enforcement personnel nationwide, including FMCSA's State partners, with uniform enforcement tolerances for these inspections. Through this rule, FMCSA incorporates by reference the April 1, 2022, edition of the handbook. It is effective January 23, 2023. See the full rule here.
FRA
The agency announced its minimum annual random drug and minimum annual random alcohol testing rates for employees performing covered service under the hours of service laws (HOS employees), maintenance-of-way (MOW) employees, and mechanical (MECH) employees for calendar year 2023. This determination takes effect December 20, 2022. FRA is announcing that its minimum annual random drug and alcohol testing rates for calendar year 2023 will continue to be as follows:
• HOS employees–25 percent for drugs and 10 percent for alcohol.
• MOW employees–25 percent for drugs and 10 percent for alcohol.
• MECH employees–50 percent for drugs and 25 percent for alcohol.
Because these rates represent minimums, railroads and railroad contractors may conduct FRA random testing at higher rates. See the full announcement here.
OSHA
The agency published a renewal of its ICR related to its occupational noise standard. This standard is one of the more widely enforced rules that OSHA looks at, since noise in the workplace is a major cause of hearing loss in the American public. See the ICR here.
In a second renewal, the agency published an updated version of the Benzene Standard ICR. Benzene is a rather hazardous chemical used in many workplaces as part of solvent mixtures. See the ICR renewal here.
EPA
The agency announced the availability of the final revision to the risk determination for the carbon tetrachloride risk evaluation issued under the Toxic Substances Control Act (TSCA). The revision to the carbon tetrachloride risk determination reflects the announced policy changes to ensure the public is protected from unreasonable risks from chemicals in a way that is supported by science and the law. EPA determined that carbon tetrachloride, as a whole chemical substance, presents an unreasonable risk of injury to health when evaluated under its conditions of use. See the revision here.
DHS
The agency is releasing an ICR related to its Chemical Hazard Security Assessment Tool (CHSAT). The tool is designed to allow stakeholders to help determine what steps may be necessary to ensure proper security steps are in place at their sites for DHS compliant security. See the ICR here.
Labelmaster is a full-service provider of products, shipping and training software, and professional consulting services to assist the DG and HS&E professional to comply with national and international regulations. See our full line of solutions at www.labelmaster.com.