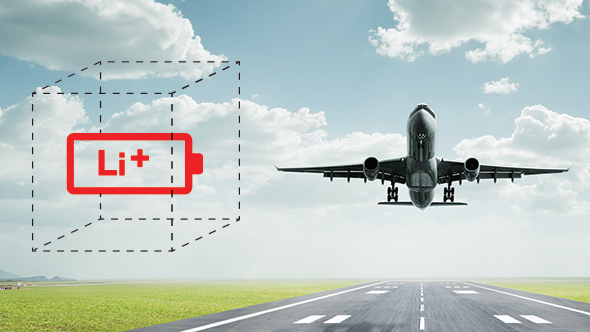 Neil McCulloch contributed to this article. 
Monday's press release from IATA, highlighting the problems and implications of non-enforcement of existing lithium battery shipping regulations, is both salutary and discouraging.
Salutary, because we've long been on record as saying that comprehensive enforcement of existing regulations would have a larger impact on safety than enacting new regulations. Many other regulators, carriers and industry commentators have highlighted the importance of effective enforcement in Dangerous Goods compliance—lithium battery transport in particular.
Discouraging, because much of the non-compliance we see today is the direct consequence of the tighter regulations enacted in the last two years—a consequence which could have easily been foreseen.
Incentives to not comply
For regulations to be effective in reducing risk they must be reasonable and practical while providing incentives for companies and individuals to ship their products safely and for manufacturers to continuously strive to design safer products.
If regulations are not enforced appropriately, there are always some who will try to take advantage and not follow the regulations because, as we all know, compliance has a cost—and in any company there is always pressure to reduce cost.
In particular, the enforcement of lithium battery transport regulations particularly those regulations dealing with manufacturing standards, is less than adequate. A fact that has led to some shippers cutting corners for commercial advantage. Simply put, lax enforcement means the playing field is not level.
With the expectation that the next round of ICAO deliberations will change the position of the goal posts yet again, the battery industry will again have to scramble to keep up to pace with new and possibly far-reaching requirements. And, once again, there will be enterprises who actively and successfully subvert the regulations, placing the airlines, pilots, transport workers and the general public at considerable risk of severe injury and death.
More ICAO requirements on the horizon?
In recent months we've seen action by consumer protection agencies to implement recalls of badly designed and manufactured batteries and battery-powered products.
Many of these products were not designed or tested in accordance with international regulations (e.g. UN 38.3 tests, quality manufacturing systems) or industry standards such as those published by Underwriters Laboratory. Counterfeit batteries are even a greater challenge to control.
More rules won't stop these products from reaching our shores. Only comprehensive enforcement can do that.
On April 1st, ICAO implemented some extremely restrictive requirements, and have over the past several months been reviewing additional regulations aimed a mitigating the Lithium battery risks in air transport. The ICAO Dangerous Goods Panel has a Working Group of the Whole meeting scheduled from October 17-21, 2016 in Montreal and as expected, that there are a number of lithium battery issues that will be discussed, including:
Performance-based packaging standard for lithium batteries. This is generally related to the standard being developed by the Society of Aeronautical Engineers (SAE)'s G-27 Lithium Battery Packaging Committee.
Additional operational controls to mitigate aviation-specific risks posed by lithium batteries including:

Any information defined as necessary to the conduct of safety risk assessments for carriage of cargo including Dangerous Goods
A mechanism to identify and communicate specific hazards associated with different battery types
A mechanism to ensure transparency of all shipments, including those not subject to full regulation (Section II batteries)
Provisions to mitigate risks posed by lithium batteries packed with or contained in equipment
Provisions to mitigate risks posed by lithium batteries carried by passengers and crew
Provisions to ensure compliance of entities outside aviation stream (e.g. shippers'/manufacturers' responsibilities)

Guidance to States on oversight and outreach for all entities performing Dangerous Goods functions both inside and outside the aviation system (e.g. operators, shippers, manufacturers) including:

effective reporting of Dangerous Goods incidents and accidents;
effective enforcement to address deliberate violations; and
the sharing of safety information among States.
Provisions which provide for greater granularity with respect to classification of lithium batteries developed through coordination with the United Nations Economic and Social Council's (ECOSOC)) Committee of Experts on the Transport of Dangerous Goods and on the Globally Harmonized System of Classification and Labelling of Chemicals.
What actually causes incidents?
Applying additional requirements to lithium batteries contained or packed with equipment has been a concern by industry because it will have significant economic impacts. It is disconcerting that more focus is not on aircraft suppression systems, enhanced ULD designs, use of fire suppression blankets and other measures that would address both declared and undeclared cargo.
The FAA's list of incidents is one of the background documents that has been and again will be considered by ICAO. It is important to note that no root cause analysis was conducted in most instances, a fact that limits the scientific utility of the data.
A breakdown of the data reveals that:
Of the 171 listed, 94 were cargo issues in which 2 were crew issues, 2 were customs handling issues and 2 were ground handler issues;
At least 9 incidents were undeclared shipments (10%);
39 were improper packaging / short circuit (44% );
1 was shipment involved an unauthorized damaged/defective battery;
1 was a non-compliant prototype battery; and
For the remaining issues, there was not enough data to determine the cause.
Almost 50% of the incidents were in the passenger compartment, and there is no effort to determine if the batteries were abused or repaired by an unauthorized person or facility.
Undeclared and improperly packed shipments do not justify more onerous regulations. Enforcement should address these issues vigorously.
More regulations do not equal more safety
While some of the risk reduction initiatives are will likely be more effective than others, a comprehensive strategy and investment is surely needed to choke off the supply of non-compliant and manifestly dangerous batteries and products containing batteries which are the primary culprits.
For a few dollars of additional profit, some manufacturers are putting millions at risk of death and injury.
Yes enforcement is needed and needed now, but why hasn't it been enacted already? One has to wonder how many regulatory authorities have taken the time to train their inspectors on the latest round of regulatory restrictions. It's not as if the deficiency in the compliance-safety balance hasn't been identified for a long a time.
In the meantime, regulations get more complicated, which simply makes it more likely that the bad actors will continue to find ways to avoid them, putting companies that follow the rules at a competitive disadvantage. This—and not a lack of regulations—is what places the public at considerable risk.
Make sure your shipments are safe and in full compliance with a full line of solutions from Labelmaster—a full-service provider of goods and services for hazardous materials and Dangerous Goods professionals, shippers, transport operators and EH&S providers.